___________________________________________________________________________________________
World War I Bond Stamp Vendor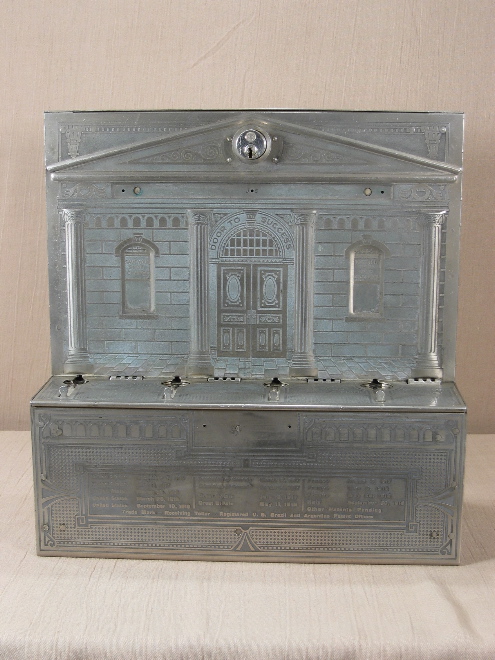 Maker unknown, c. 1918, 13 1/4". I learned 2 things when I bought this machine. The first is that this model exists---it's not listed in Silent Salesmen Too and I'd never seen or heard of one before. The other is that World War I bonds were apparently small stamp-like pieces that (as I infer from this machine) one could add to a book of stamps. I'd always thought they were larger, more official documents in larger denominations that you had to buy from a bank or government agency, as with savings bonds. The bonds this machine sold ran from just a penny (every penny counts!) to a quarter, and couldn't have been any larger than a postage stamp---and look to have been smaller.
This is an impressively detailed machine, made more intricately than it needed to be. The shape of the body is simple with its flat panels and sharp corners, but every panel is embossed and finished to give the machine texture and visual interest. That includes the back panel, which would have been invisible had a vendor used the holes provided to wall-mount the machine. I couldn't capture these details as well as I'd have liked to, but I gave it my best shot in a couple of more pictures here. I don't know the casting or finishing process that created this, but it had to be much more labor intensive and costly than just a flat piece of metal, and I'd imagine that the "imperfection rate" was much higher because of that.
The case is made of steel and is probably nickel-plated. The machine itself is dense and has a great heft factor. This example is 100% original and is in superlative condition!
___________________________________________________________________________________________
___________________________________________________________________________________________
©Small Vintage Vending 2003-2009