___________________________________________________________________________________________
Abbey Cash Tray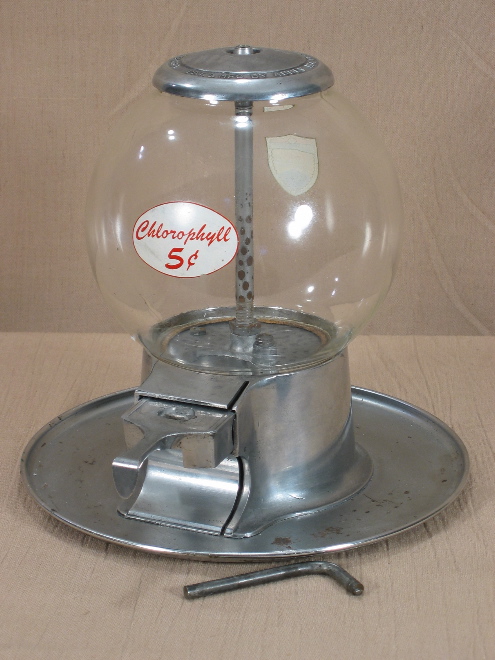 Abbey Mfg. Co., Los Angeles, CA, c. 1948, 9". Silent Salesmen Too describes the history of this model pretty extensively, so I shan't repeat it here. It's a fairly common 5¢ aluminum vendor designed to sell nuts, small candies, or breath pellets. They're often found in decent condition, so you don't have to wait long to get a nice one.
This was also available as a "Cash Trio" consisting of 3 of these machines on a cast aluminum base that swivels. I say "aluminum base," but it's more like a revolving platter. The machines themselves are identical to the one above; only the base differs.
The example above is 100% original except for possibly perhaps (maybe) one of the decals. From the small product opening in the handle you can tell that it's designed to vend breath pellets. The key to this model is unique, and I've pictured it above so you can see what it looks like.
I no longer own this machine.
___________________________________________________________________________________________
___________________________________________________________________________________________
©Small Vintage Vending 2009