___________________________________________________________________________________________
Ace Model 12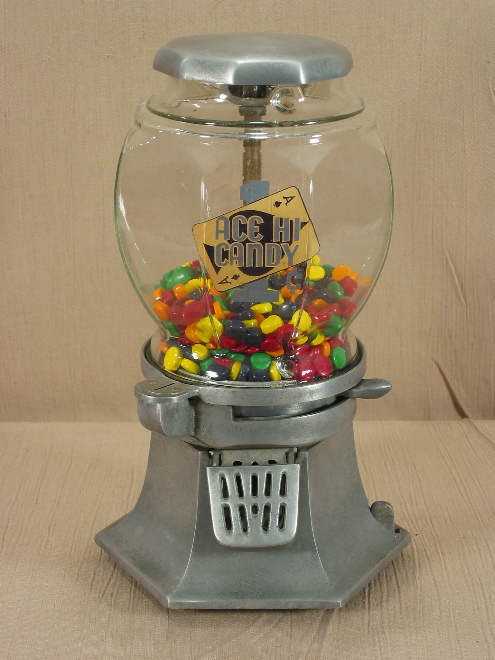 Operators Vending Machine Supply Co., Los Angeles, CA, c. 1935, 14 1/2". Silent Salesmen Too describes this as "a cheaper model of the Ace Model 43." It may have been less expensive but I don't see it as "cheaper." The only difference is the shape of the body and the gate. The lid, globe, and mechanism are identical to those of the Model 43.
These are much scarcer than Model 43's. I looked seriously for several years before I found this one. In the meantime I'd bought several Ace 43's and ended up trading one straight across for this Model 12. From strictly a financial viewpoint I lost on that deal, but I wanted a Model 12 and had a Model 43 to spare, so I made an offer the other guy couldn't refuse.
This one is 100% original except for the decal. The side tab on the baseplate, which sticks up through a slot on the body, is an unusual feature that I've not seen on any other example. It looks like a locking tab on a Columbus baseplate, but there's no hole for a lock (which, like on the Ace 43, screws into the center rod through a hole in the middle of the baseplate underneath the machine). It's not there to stop the baseplate from rotating, since the baseplate and base are both hexaganol. As far as I can tell the tab is useless---but it's there!
___________________________________________________________________________________________
___________________________________________________________________________________________
©Small Vintage Vending 2003