___________________________________________________________________________________________
Adams' Pepsin Tutti-Frutti Gum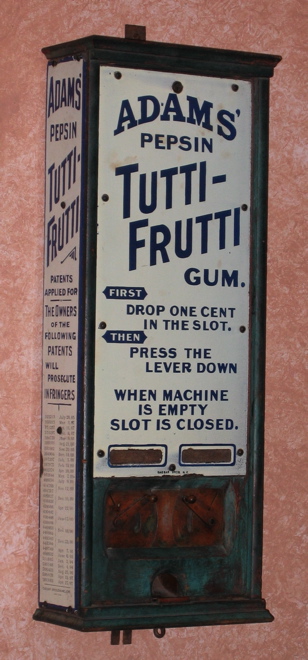 Railway Automatic Sales Co., Brooklyn, NY, c. 1898, 29 1/2". This is a 2-column gum vendor with porcelain panels that cover both sides and most of the front. I'd seen this model a few times before I bought this one, and was always drawn to it. It's got great graphics and a truly awesome presence. The maker is listed in Silent Salesmen Too and on an inside label as Railway Automatic Sales Co., who obviously made it specifically for Adams'. It's considered rare.
The example above is 100% original. Note the method of attachment, which you can partially see in the picture above---two heavy iron rods are attached to the machine's back, and the notched outer ends of those rods are attached to the wall. The bottom rod supports the machine's weight, and the top rod holds it against the wall. I was initially worred about the stability of this arrangement, but it's solid when mounted into a stud. The only downside to this method is that the machine swivels a little from side to side, but that's not been a problem.
This is the only example I've seen with painted wood. The other examples I've seen---and I've seen only a couple---had bare wood. Whether it was painted at some earlier point I don't know, I just know that it wasn't painted when I saw it. In fact, I was surprised to see the paint on this example since nothing I'd seen up to that point caused me to think that the wood was originally painted.
This specific machine was part of a collection I bought in 2007, and was the primary driver for my interest in the deal. The collection had other great machines, some of which I still have, but this was the one that really got my juices flowing. A friend owned the collection, and we had talked about this machine a year or two earlier before he went to look at it. He was worried about spending a bunch of money on a machine that might not be right, and he asked my opinion on what to look for. Now, he's an experienced collector and would know as well as I did about whether something looked right or not, but he was asking specifically about any known "problems" with this model. I didn't know of any, but told him to call me if he saw the machine and had any specific questions or general concerns. He never called, and when I mentioned it next time we talked he said he hadn't needed to call, he knew with once glance that this thing was right.
___________________________________________________________________________________________
___________________________________________________________________________________________
©Small Vintage Vending 2003-2009