___________________________________________________________________________________________
Adams' Tutti-Frutti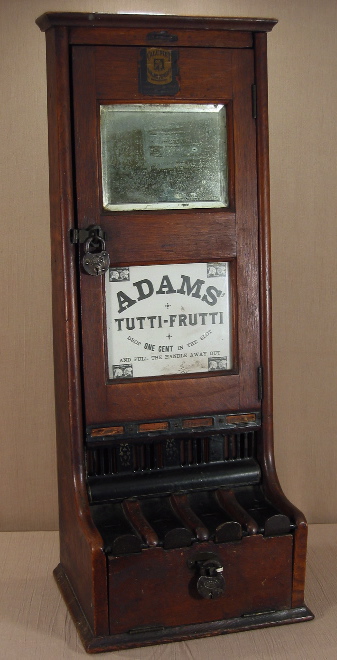 Manufacturer unknown, c. 1890's, 31 1/2". This is one of the earliest gum machines made. According to Silent Salesmen Too, Thomas Adams introduced the first commercial gum---known as Adams New York Chewing Gum---and also introduced vending machines to the masses by putting them on the elevated subway platforms of New York City. He was an inventor and the first route guy. I suspect strongly that this is one of his earliest models. It's listed under "Adams" in Silent Salesmen Too, but I doubt that the company made the machine, they probably contracted someone else to make it and label it with Adams' name.
This is made mainly of wood and has 4 slide mechanisms at the base of 4 internal columns. Put a penny in, pull the slider out and then release it, and a tab of gum falls out for your consumption. The tall part of the "L" tapers back as it gets higher, which gives it a different look than that of most "L" vendors.
This example is 100% original and in extraordinary shape. It came out of a bar in Illinois and passed through the hands of at least 2 collectors before landing with me. It's tired of traveling and has asked me to provide it a stable home. I'm happy to do so. If I had to reduce my collection to one machine, there's a good chance this would be the one.
___________________________________________________________________________________________
___________________________________________________________________________________________
©Small Vintage Vending 2003-2009