___________________________________________________________________________________________
Ad-Lee "World's Best Machine" / Columbus Model F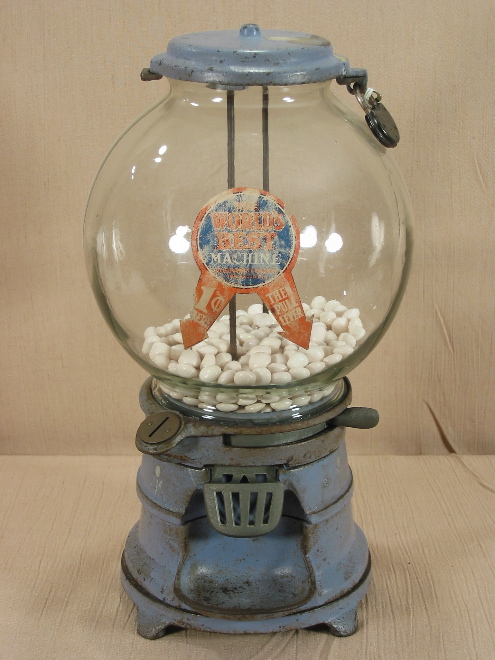 Columbus Vending Company, Columbus, OH, c. 1915, 16 1/2". This model is known as a Columbus Model F and as an Ad-Lee "World's Best Machine." Columbus made it exclusively for the Ad-Lee Novelty Company of Chicago, and it was developed with basically the same parts as a Columbus Model A. The bottom is embossed with Ad-Lee's name, and according to several sources Columbus never produced it for anyone else.
Skip Conner et al. said that Columbus sold only several thousand of these machines. The open gate with vertical bars and the open gate with a Columbus star in it are both correct. The original paint was a beautiful baby blue that I've seldom seen on a vendor. According to Bill Enes this model was discontinued about 1929.
The example pictured above is 100% original except for the glue holding the decal to the globe. When I bought the machine, the decal had fallen off and was laying on the bottom of the product compartment. Its front surface is a bit tattered, but it's original.
I no longer own this machine.
___________________________________________________________________________________________
___________________________________________________________________________________________
©Small Vintage Vending 2009