___________________________________________________________________________________________
Advance 1-2-3 Gumball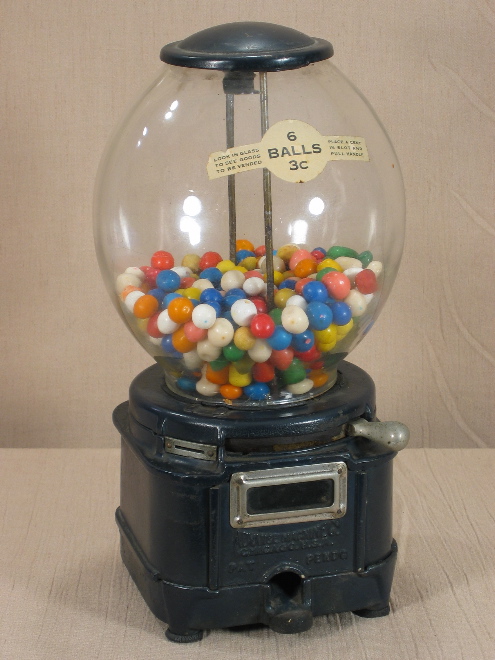 Advance Machine Company, Chicago, IL, c. 1910's, 14 1/4". The front of this is embossed "PAT PENDG" and no production date is listed in Silent Salesmen Too, so the date I've stated for this machine is an estimate.
The Advance 1-2-3 has a dense cast iron base and a rolled steel lid. According to Silent Salesmen Too it's the only Advance to use a horizontal mechanism. It's also the only Advance I know of to use a profit-sharing gimmick to lure in the pennies. The front window shows the ball(s) to be vended next, so the customer knew if he or she was going to get double or triple the goods for the money. Although pictured above with a large football globe, I believe that the short round Advance globe is also correct on this model.
I didn't realize how hard this model was to find until I started wanting one long ago and wasn't able to find one anywhere. No, that's not true---I found 3 of them, but all were in others' possession. Doesn't do me much good to find one in that circumstance, except that I can see how cool someone else's machine is. There's something to be said for that---a lot to be said, actually---but I still wanted one of my own.
I finally got it, and it was worth the wait. The example above is 100% original, and is the nicest I've ever seen. The fact that I now own it shows the advantage of patience and perseverance over many years, and---when that fails---the advantage of fiscal irresponsibility inspired by an image on a computer screen.
___________________________________________________________________________________________
___________________________________________________________________________________________
©Small Vintage Vending 2003-2009