___________________________________________________________________________________________
Advance "J. H. Bryant"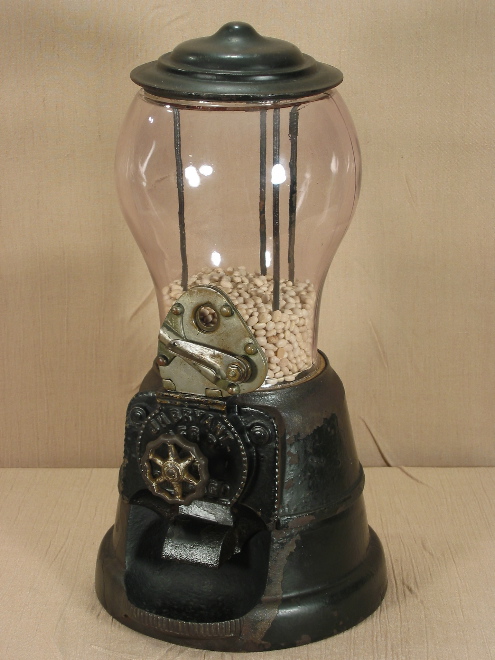 Advance Machine Company, Chicago, IL, c. approx. 1905 to 1908, 18". This is a rare machine whose place in the Advance line is not well documented. I bought this in 2003 from a woman who'd bought it from a small antique store in Illinois in 1977 and had cherished it since then. She's never "enhanced" it, so it's a nice, unadulterated original example.
This appears to be a hybrid of the Advance Simplex (Silent Salesmen Too, pg. 10) and the earliest Advance Climax (Silent Salesmen Too, pg. 9, upper left). It has the globe and lid of the Simplex, but the body is pure Climax except for the "J.H. Bryant" embossed on the mechanism. The slug rejector is also unusual, and is not one I'd seen before.
On Silent Salesmen Too, pg. 291, is pictured a White Star that looks nearly identical to the Bryant. Based on this advertisement it appears that Advance private-labeled machines, and in fact private-labeled this machine. The White Star has a different handle on the slug rejector, is embossed "White Star" instead of "J. H. Bryant," and has feet. Other than these small differences they're identical machines.
The machine is heavy cast iron and vends a portion for a penny. I wish I knew more about this machine or even about J.H. Bryant, but I don't. If anyone else does, please let me know.
___________________________________________________________________________________________
There's a good story behind this machine. It's not my story---I bought it on ebay---but it's a decent story nonetheless. I got the story after I bought the machine and called the sellers to discuss shipping. Here it is:
I bought this from a retired couple who lives in Elgin, IL. They've collected many things over the years, and at one time they either owned a small antique store or else the wife rented space in antique malls. They loved antiques, liked them best in original condition (which was fortuitous for me), and like most of us couldn't keep everything they wanted. They balanced their current interests with space and money, but their interests changed often and therefore so did much of their "collection." This was an exception to that trend.
In 1977 they were driving through the little town of Big Foot, IL, which they described as a bump in the road just south of the Wisconsin border. It was too small to have its own post office, but it was large enough to have a small antique shop housed in a turn-of-the century grocery store. In that store they came across the vendor pictured above. Neither one of them knew anything about old vending machines, but the wife was really smitten by this. It was tagged $150 and was more then they could easily afford at the time, so they left the store without it.
As they drove home the wife couldn't stop thinking about it. According to the husband, she couldn't stop talking about it, either. As they neared home she decided she was going to buy it. She got home, called the store's owner, and told him that she wanted to buy the machine but that cash flow was a problem. She asked if he'd accept a check for $75 now, which she'd mail the next day, and then the remaining $75 in a couple of weeks. The couple was planning another trip through Big Foot in 2 weeks, and figured they could stop in, pay the balance, and bring the machine home with them. The owner agreed to those terms. The wife did what she said she'd do, and a couple of weeks later the machine arrived at their house and remained there for the next two and a half decades.
In 2002 they decided to sell it. They still liked it, but they'd had it forever and were ready to part with it. They'd rented space at a local antiques swap meet in November 2002, so they decided to take this machine with their other stuff. They tagged the machine at $350 and set it on their table. According to them, it sat there all day and not a single person even asked about it! The couple still knew nothing about coin-op, and they figured they'd overpriced it. They took it home and put it back on the shelf from which they'd taken it that morning.
The next spring they put it on ebay with a $325 reserve and watched with awe as reserve was met almost immediately and the price climbed quickly to over $1000. Remember that they were hoping it'd meet reserve, and that in their minds this was still a $300 machine. When it got above $1000 their extended family started watching the auction, including several grown kids who lived out of state. The price kept climbing during the 7 day auction, and by the end they were all downright giddy. When the auction ended one of their daughters emailed the wife and said, "Mom, don't you remember, you gave me that machine a long time ago!" Sadly for the daughter, the mom couldn't recall that.
I called the couple after the auction ended to discuss payment and shipping. When I told the husband to be sure to remove the globe before shipping the machine, there was a long pause before he said, "Do I really need to do that? I'll wrap it well." I thought then that we should perhaps meet and exchange cash for machine in person, and he must have thought the same thing because he suggested it 3 seconds after I did. I wanted to make sure the machine got to me undamaged, and I'm sure he didn't want anything to jeopordize such a desirable outcome for them. We met in northwestern Indiana the following weekend and completed the deal. They rounded the price down $6 to the next even hundred dollar increment, which is a pittance at that price level but which I thought was a very nice gesture. I know others who wouldn't have done that---in fact, I know others who haven't done it.
I was glad I got the chance to meet them. I'd have preferred that the chance had come at the swap meet they'd taken it to the previous November, but that wasn't to be. I'm glad none of the Chicago-area collectors got that chance then, either, or else you'd be reading about this machine in the C.O.C.A. magazine's Tales of the Hunt rather than here, and someone else would have written it.
This is good example of the fact that good stuff is still out there, unrecognized and owned by folks who don't know what they've got. Just keep pluggin' away and you'll come across these kinds of situations ocassionally.
___________________________________________________________________________________________
___________________________________________________________________________________________
©Small Vintage Vending 2003-2009