___________________________________________________________________________________________
Advance Peanut Machine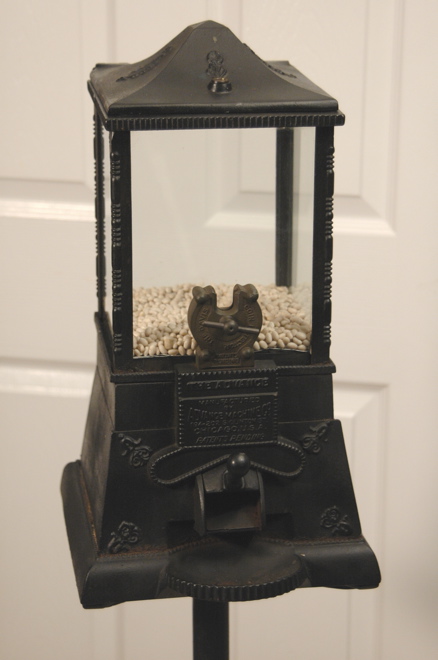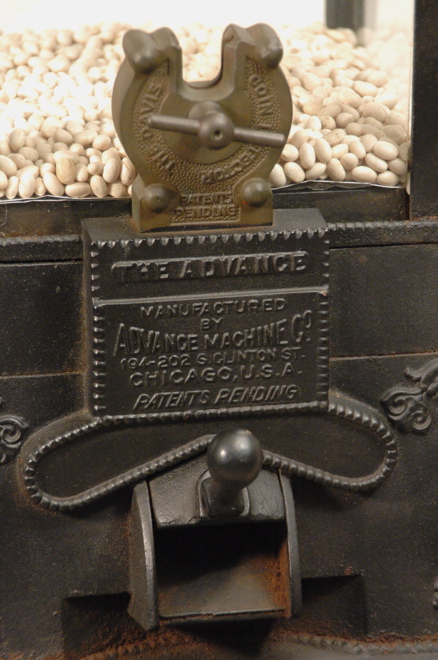 Advance Machine Company, Chicago, IL, c. 1900, 17 1/2" (machine only), 49" (machine plus stand). According to Silent Salesmen Too, the Advance Machine Company was incorporated on September 30, 1900, and came out with this model---their first of many---right after that. The patent date is listed as October 23, 1900, so they must have worked quickly. To the best of my knowledge this example is one of only 4 known to still exist. Of those four, 2 are this version and 2 are a different version with a turn handle on the front as pictured on page 8 of Silent Salesmen Too. It's the only one of the 4 with original paint---more about the paint below---or with an original dedicated stand. As far as I can tell it's made completely of cast iron, with a lid that's hinged in back and locks in front. All in all, it's a pretty special piece and I'm lucky to have it.
You insert a penny into the slug rejector, turn the handle on the slug rejector to drop the penny into the coin slot of the machine's body, and then you push down the handle attached to the gate. As the gate lowers, a trap door slides open on the bottom of the vending compartment so that product can fall into the chute when the gate is closed. Release the gate's handle, and the product falls into your hand as the gate rises. That is, that happens if your hand is there to catch it---if it isn't then it falls to the floor, but you'd probably make that mistake only once.
I got this exactly as you see it, but dirtier and stiffer. The seller didn't know what he had until I told him, and he'd been trying to figure out how to get the machine off the stand, and how to loosen a sticky gate, and God knows what else. I said DON'T DO ANYTHING---don't remove the stand, don't unstick the gate, don't clean it, don't touch it up, don't even look at it---until we talk. He listened, and I got this as one big piece in an even bigger box as you can see here. He did a great job packing it, and it arrived unscathed. There's a long and interesting story attached to this acquisition, and I probably won't post it here but you can ask me about it sometime if you're interested and see me when we have time to talk.
This piece appears to be 100% original. If the paint isn't original then it's an ancient repaint, but I'm almost certain it's original. Either way it's in great condition. The coin door on the side is stuck in place---probably because of some rusting around its edges inside the coin compartment---and may never be able to be opened. I took it to my favorite local locksmith and they tried, but if the coin door is rusted shut they can't tell when the lock is open or closed, so couldn't judge the success of their lockpicking efforts. When I first got this machine the gate was gummed up and hard to move, so I sprayed WD-40 into the machine's innards through the chute, and then over the next few days gently worked the gate loose. Then I ran a penny through, and to my horror the machine jammed while the gate was down! I was sooooo bummed, because I couldn't get to the mechanism through the coin door, and I didn't know how else to unjam it. I moped around for a few days, and then went into the basement where the machine was to see if I could figure out what to do, and the gate was up and moving freely again. It had healed itself! That's the last penny I ran through the machine, and it's the last one I ever plan to run through it. I'm pretty sure the machine works, but won't risk another jam when I'd be powerless to rectify that sad situation.
___________________________________________________________________________________________
___________________________________________________________________________________________
©Small Vintage Vending 2003