___________________________________________________________________________________________
Advance Penny Dispenser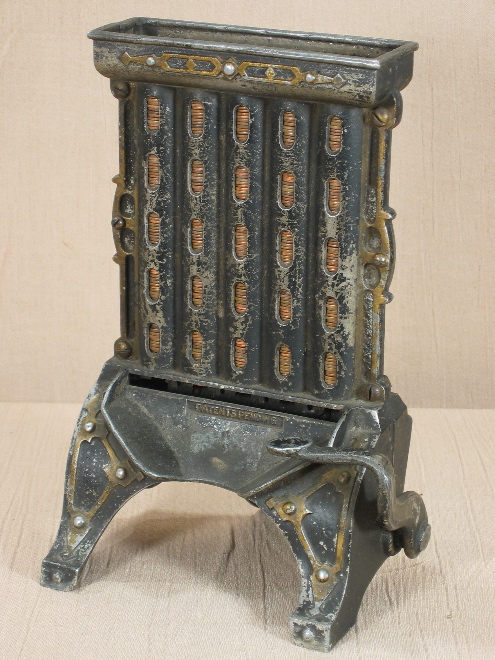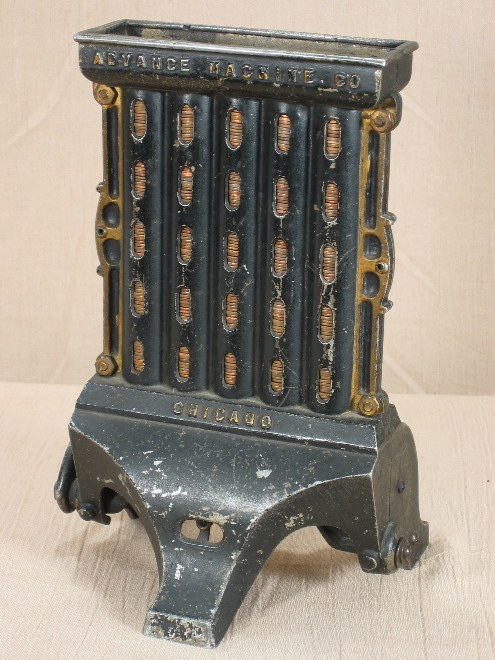 Advance Machine Company, Chicago, IL, c. early 1900s, 10 1/4". I saw one of these in California before I moved to greener pastures (literally) in 2000, and remember thinking how neat it was and that I wanted one. That was the last one I saw until I saw this one 5 years later. Someone was holding it in the parking lot at the Chicagoland show, and I moved quickly over there to find out if the gentleman holding it was doing so because he'd just bought it or because he wanted to sell it. To my everlasting joy, it was the latter.
We negotiated a fair price, which consisted of me asking him his price, him stating it, me asking him if he could do any better, him saying no, then both of us turning to the guy who stuck his head between us and drooled over the piece while he asked pantingly if it was for sale. I can't be positive, but I think he was sporting wood when he did this. I said "no, it's not" and then turned back to the owner, said "okay," and paid him. It's hard to keep things quiet in the middle of a crowded parking lot, and in those cases you need to go with the flow.
One push of the lever delivers 5 pennies into the center trough. This example is made of aluminum and has its original black paint with gold trim, but I've seen these made of cast iron as well. I imagine the cast iron is earlier.
___________________________________________________________________________________________
___________________________________________________________________________________________
©Small Vintage Vending 2003-2009