___________________________________________________________________________________________
Autosales "L" Vendor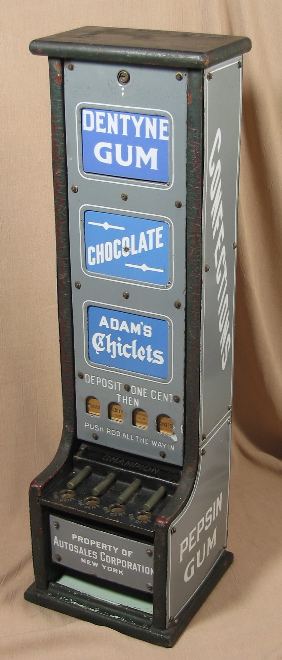 Autosales Vending Corp., New York, NY, c. late 1890's, 32 1/2". This is a great early vendor made of a painted wood frame to which are attached porcelain panels. The tags in the windows say "Chocolate," "Dentyne Gum," "Wintergreen Gum with Pepsin" (can't forget the pepsin!), and "Chiclets."
I bought this from a dealer/collector who'd bought it locally but hadn't kept it long. When I unpacked the machine two coins fell out; one was a well-worn Indian head penny dated 1884, the other was a 1919S Lincoln head penny. Alas, neither is the Holy Grail of coin collecting and neither helps offset the machine's purchase price, but it was still a real nice touch.
This model has great presence. This particular example is 100% original.
___________________________________________________________________________________________
___________________________________________________________________________________________
©Small Vintage Vending 2003-2009