___________________________________________________________________________________________
"Belgian Columbus"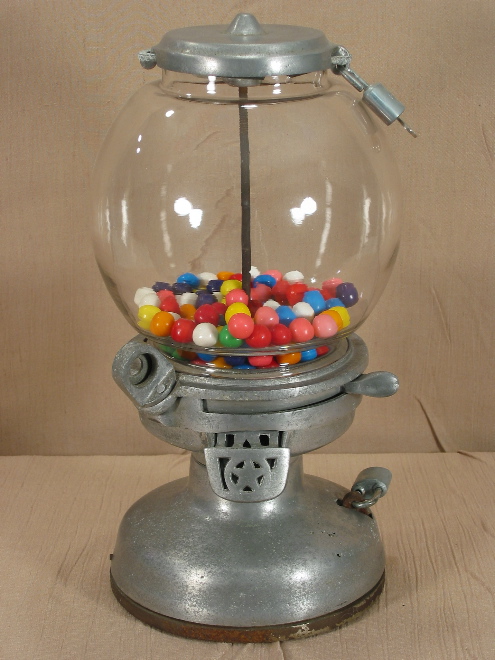 "Belgian Columbus" is colloquial; most collectors believe this to be Belgian in origin, but disagree about whether it was made by Columbus for the European market or whether a Belgian manufacturer "borrowed" the design from Columbus. It's made of aluminum except for the baseplate, which is thick cast iron. It's bottom-weighted, so if that was the intent then it worked.
This gives one gumball with an American nickel. It was probably designed to vend with a 10 dgfg coin, which is exactly the same size as a nickel. These machines are usually buffed to a glossy mirror-like finish, but I saved this one before it met such a dastardly fate. The globe is similar to a Columbus #8 smooth globe, but flattens to a short ridge near the top and bottom. I've never seen one with an original decal, but that doesn't mean one doesn't exist.
This example is 100% original, although the Corbin locks may not be right.
___________________________________________________________________________________________
___________________________________________________________________________________________
©Small Vintage Vending 2003-2009