___________________________________________________________________________________________
Bluebird Bulk Vendor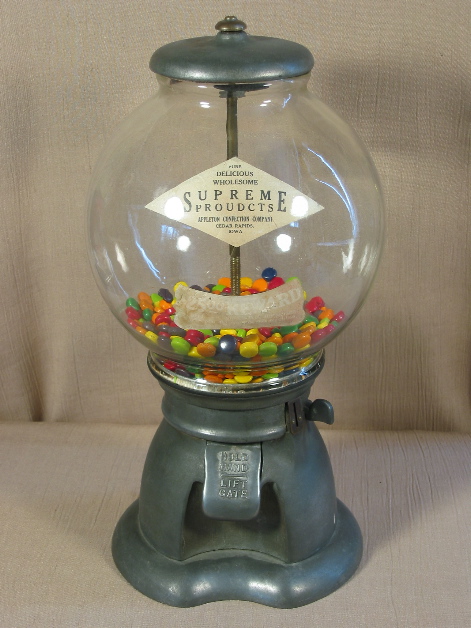 Bluebird Products Co., Kansas City, MO, c. 1915, 16 1/2". This is an all-aluminum machine, as were most Bluebirds, and vended a handful of nuts or candy for a penny. The example above has a large globe and no dish in front, but this is also correct with a medium Bluebird globe and was also available with a dish molded into the baseplate below the gate.
This is a classic vendor that looks great with an old, crusty patina. They're pretty reliable, but the coin slot is tight and sometimes doesn't accept modern pennies, which tend to be slightly thicker than older pennies. Because of that, this model would not be a good choice for a modern vending route. If you're considering purchasing one for a route, then you should reconsider....then please call me and tell me where your route is and describe the security set-ups in the spots you've placed your machines.
This example is 100% original. I no longer own it.
___________________________________________________________________________________________
___________________________________________________________________________________________
©Small Vintage Vending 2009