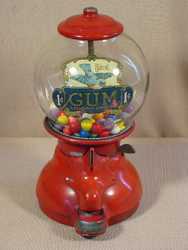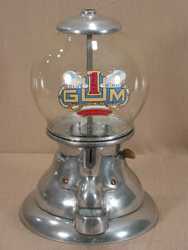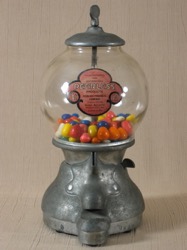 (Click on image to enlarge it)
Bluebird Products Co., Kansas City, MO, c. 1915, 12". This is a small aluminum gumball vendor. The examples pictured above have mechanisms that give one pull for a penny, but this model was also available with a taller midsection that housed a 1-2-3 mechanism. These are almost always found unpainted with a bare aluminum finish, which is one reason I like the one painted red---it's unusual for this model, and has more personality because of the "vendor touch" that the paint represents.
Universal Products are not uncommon, and anyone who wants one can find a nice one without waiting long. Many have befallen the fate of the buffing wheel, but those with their original patina are beautiful machines that have the rich gray finish that old aluminum gets.
The examples shown above have small differences between them, such as different numbers or dates stamped in different spots, slightly different contours to the midsection, lid, receiving cup, and push-knob on the vending wheel, and different coin slots, among other things.
The example above left has a conventional bare aluminum finish with a nice old satiny patina. This specific machine was an ebay purchase, and I was told by the seller after the sale that its home was a St. Louis, MO, hardware store until 1974, at which point the store closed and the family packed this away until they sold it to the guy from whom I bought it. It's shown above exactly as it was packed away, including the gumballs.

The red machine is 100% original except for the paint, which was undoubtedly applied by a vendor during the machine's service years. I'm not aware that Bluebird ever painted their machines at the factory.

The third machine is what a polished Bluebird looks like. This has acquired a mild satin patina since it was buffed, and doesn't look bad, but it doesn't look good the way a crusty gray patina looks good. This has the bigger-footprint baseplate, which is correct.

Speaking of crusty gray patinas, the fourth machine has it. This machine looks identical to the first machine except for the patina. The key sticking out of the lid on machine #4 is an original Bluebird key, and is the only one I've ever seen. It was included with the machine when I bought it on ebay, and I consider myself lucky for having got it. You can see a closer shot of it here.
All of the machines shown above are 100% original except for the paint on the red one. I no longer own all of them.

___________________________________________________________________________________________

___________________________________________________________________________________________

©Small Vintage Vending 2015