___________________________________________________________________________________________
British Booklet Matches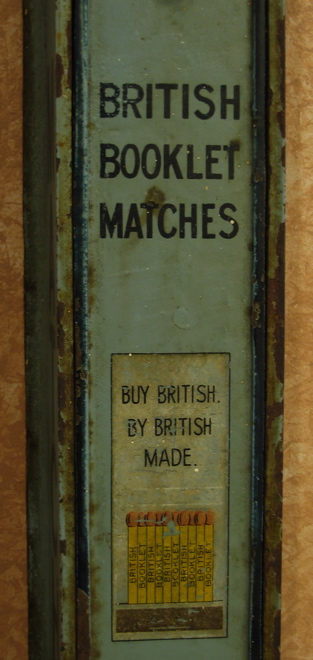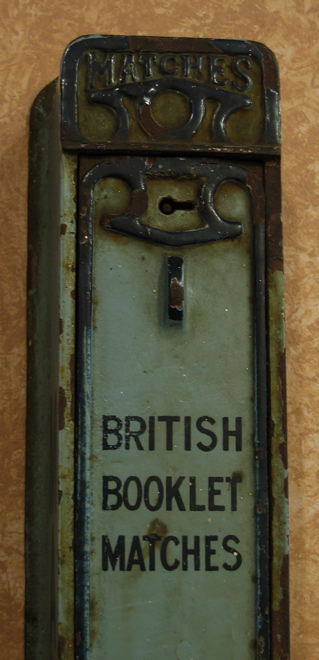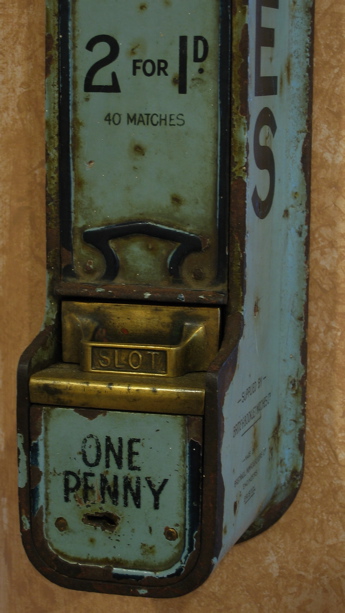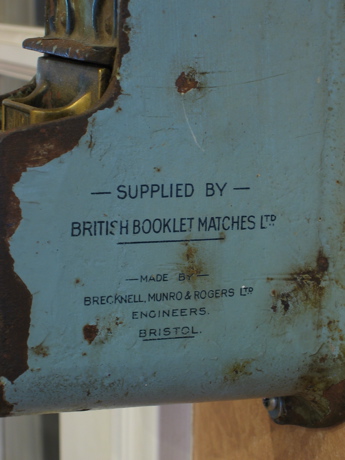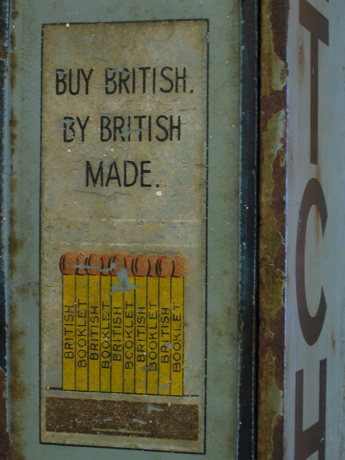 Brecknell, Munro, & Rogers, Ltd., Bristol, England, c. early 1900's (est.), 27". I posted multiple pictures of this machine because it's an unknown piece and details don't show well in "whole machine" shots of tall, narrow machines. I wouldn't have a clue who made this if it weren't indicated on both sides of the machine, so "cheers" to Brecknell et al. for their foresight.
This is an ancient piece. I estimated the date to be early 1900's, and I suspect it's very early 1900's. It's made entirely of cast iron and is finished in porcelain, and it weighs a ton. The color is beautiful, and the graphics are great. It has no back plate as do most vendors of this type; the back is also cast iron and is just part of the shell, so that the back, sides, top, and bottom all appear to be part of the same casting. The front panel and the coin door are separate pieces. It's held to the wall by just 2 screws, one though the hole above the body and the other through the hole just below the body. The screws aren't hidden or locked, so I guess this was intended for secure locations. Having said that, I don't know that this didn't come to me indirectly from the descendents of an early 1900's thief, so maybe security considerations came later.
This specific machine was bought on ebay from Europe by a U.S. collector and about a year later was traded by him to another U.S. collector who sets up at the Chicagoland show. I saw this on his table at that show in November 2008 as I glanced over the shoulder of another friend to whom I was talking. I politely---albeit anxiously---waited for him to finish his sentence, then said "excuse me" and walked over to this machine. It was love at first sight, or first touch, I don't remember which.
It was tagged much higher than I thought it should be, and apparently higher than others thought it should be since it was still there. I was disappointed by the price because I just wasn't going to pay that much for it, but the owner said he'd work with me if I was really serious about it. He knows me and knows that I love this type of machine, and he glanced several times at the thin strand of drool dangling from my lips as he surmised that I liked this one as well. I walked around for a few minutes with another friend trying to decide how much I could pay without feeling completely foolish, and arrived at a number. I went back to the seller, whom I know pretty well, and asked him for his best price. His absolute, rock bottom, can't-go-any-lower price was the absolute, top end, I'm-not-gonna-get-completely-stupid price that I'd arrived at 5 minutes earlier, so that was it. It came home with me for that price. I wish it'd been cheaper, but I don't regret the purchase. It's a killer piece, and is 100% original. This is the only example I know to exist.
___________________________________________________________________________________________
___________________________________________________________________________________________
©Small Vintage Vending 2003