___________________________________________________________________________________________
Calvert Vendor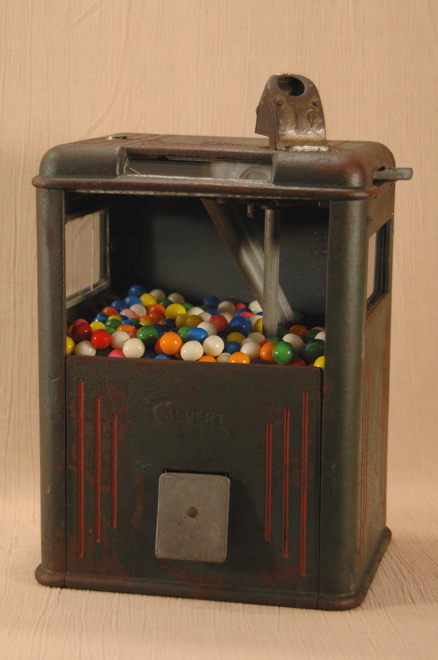 Calvert Mfg. Co., Baltimore, MD, c. 1935, 14 1/2". This is the predessor to the "Al Hoff" Magic Vendor. It was made by the Calvert Mfg. Co. before Calvert became Townsend Mfg. Co. in 1937. Townsend was headquartered in Baltimore and according to the Calvert coin door, Calvert was, too. The body is made entirely of cast iron, unlike the Magic Vendor which was made of cast iron and sheet metal. The Calvert and the Magic Vendor both weigh a ton.
Like the Magic Vendor, the Calvert houses the mechanism in its lid. The bottom part of the machine has some parts integral to the vending process, such as the vending wheel and product chute, but no mechanism. You put a penny into the raised coin entry on top, and the penny falls into the mechanism just below it. You pull the crank and a rod running through the center of the product compartment turns the vending wheel. In theory the mechanism-on-top design was better because product couldn't fall into the mechanism and gum it up, but the design might have had other problems that balanced or even outweighed that advantage. The window to the left of the crank shows the last penny played.
These machines are less common than the Al Hoff, but they're not rare. I don't think they're as attractive or interesting as the Al Hoff, mainly because they're plainer, but the one pictured above does have a good overall look. This example is 100% original and is one of only a few I've seen with original paint.
___________________________________________________________________________________________
___________________________________________________________________________________________
©Small Vintage Vending 2003