___________________________________________________________________________________________
Canaan "Beehive" Bantam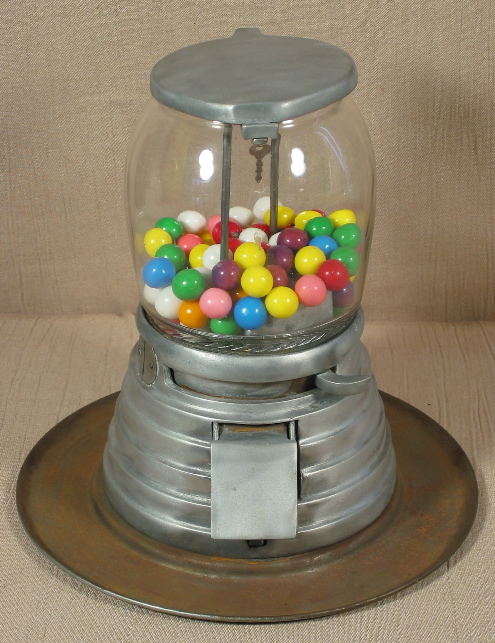 Will P. Canaan, Texas (so I've heard), c. 1930's or 1940's, 8 1/2" to 9". This is another one I don't know much about. The late Ken Rounds told me once that Canaan was a vendor from Texas and that he had about 300 of these machines made. Ken was not always right about coin-op history, so I don't know if that's true but it wouldn't suprise me if it is.
This is made of aluminum. I bought it in the mid-1990s from a small antique store in Southern California. The owner of the store told me that she'd bought it for her son about the time he was born, which was 31 years earlier. He'd grown up uninterested in coin-op and eventually asked her to sell it for him. She got her full asking price, and I was more than happy to pay it. I thanked her and ran before she could reconsider.
This is just as I got it, locks and all, except for the gumballs which are my addition. It's an excellent original example of this model, which is quite hard to find although probably not quite rare.
___________________________________________________________________________________________
___________________________________________________________________________________________
©Small Vintage Vending 2003-2009