___________________________________________________________________________________________
Candy King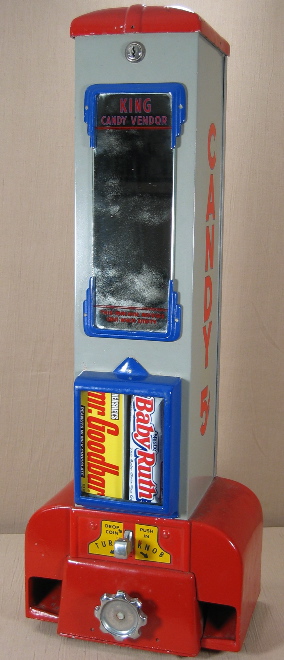 Monterey Distributing Co., Los Angeles, CA, c. 1930's (estimated), 28". I've always liked the design of this model. The date is an estimate on my part, but the deco influence suggests a mid-to late 1930's vintage. In my opinion the design would be pretty uninteresting were it not for the flared red base, which along with the overall color scheme make it a pretty attractive vendor.
It's made of a thin metal of some kind; a magnet sticks to the body but it's not especially weighty. I bought this machine intending to wall-mount it (which is how the previous owner displayed it), but when it arrived I was surprised to find feet on the bottom. It could be used either way.
This is a trivial point, but if you squint at the picture of this model in Silent Salesmen Too you'll see that the top of the mirror says "Candy King," hence its listing under that name in that book. The top of the mirror on the machine above says "King Candy Vendor," which is similar but not the same. Had Bill found this machine first we might be finding it alphabetized under 'K' instead of 'C' in his book.
The example above is in excellent original condition.
___________________________________________________________________________________________
___________________________________________________________________________________________
©Small Vintage Vending 2003-2009