___________________________________________________________________________________________
Columbus Model 14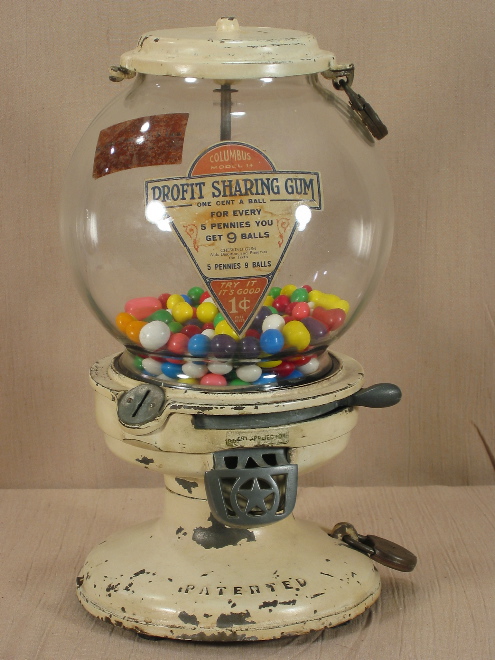 Columbus Vending Company, Columbus, OH, c. 1923-1924, 14 1/2. This is a painted cast iron machine that vended 1, 2, 1, 2, and 3 gumballs for consecutive pennies. That totaled 55 cents for 100 gumballs, which produced the high-rolling profits that paid mortgages in the 1920s.
The key to identifying this model is the vending wheel, which has 1, 2, or 3 holes in each position. Change the wheel and you changed the model number. Columbus Models 14, 16, 17, and 18 were essentially this same machine but with different wheels. The model 18 is a later model and has a different top mechanism plate and agitator. The models 16 and 17 are very hard to find.
I believe the Model 14 was made for some time. I've seen examples with large-nippled lids and with small-nippled lids, and with star-embossed globes and with smooth globes. This suggests that the model's life cycle transversed the point at which Columbus changed from smooth globes and small nipples to the embossed globes and large nipples.
Most of the Model 14's that I've seen have red paint, a large-nippled lid, and an embossed globe. A collector I know has an original 1931 catalog that states for the models 14, 16, and 17, "These models may be finished in white baked enamel when ordered special. Price quoted upon request." I've seen 3 Model 14's with white paint, 2 of them with a large nippled lid, and the one above with the earlier small nippled lid. All three of the white Model 14's have had chipped paint, which makes me wonder if the white paint held up as well as the red paint or if chipping is just more apparent on a white machine. Very few Model 14's have their original globe decals.
This example is 100% original and has a very nice original Model 14 decal. The decal to the top left of the Model 14 decal is unreadable in the picture (and is barely readable live), but it announces a reward for anyone caught slugging the machine. The body decal right above the gate says "PATENT APPLIED FOR."
Many thanks to Roy Leatherberry for his critical review of this page.
___________________________________________________________________________________________
___________________________________________________________________________________________
©Small Vintage Vending 2003-2009