___________________________________________________________________________________________
Columbus Model 30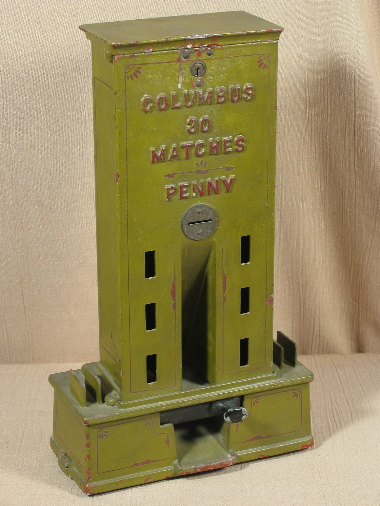 Columbus Vending Company, Columbus, OH, c. 1913, 14 1/2. This is not listed as "rare," but I think it should be. I've seen only 2 in 12 years. It was a short-lived machine produced only in 1913 and 1914, and was superceded by the Model 25 in 1915. It has 2 columns and dispensed match boxes into the center instead of each side.
It's not heavy, although it won't blow away in a gentle breeze. It's probably made mostly of sheet metal. This example is 100% original.
Many thanks to Roy Leatherberry for his critical review of this page.
___________________________________________________________________________________________
___________________________________________________________________________________________
©Small Vintage Vending 2003-2009