___________________________________________________________________________________________
Cornet Aspirin Vendor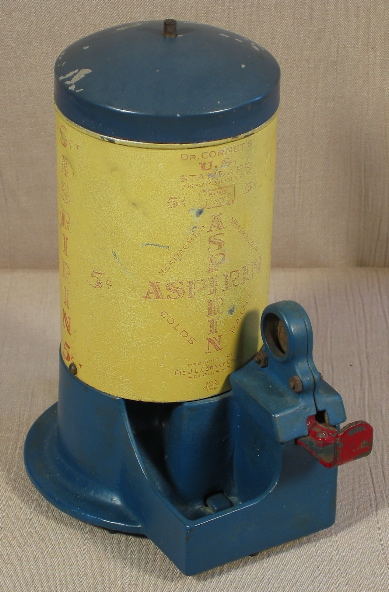 J. L. Cornet Co., Inc., St. Louis, MO, c. 1932, 10". I first saw one of these in another collector's house in the mid- to late 1990s. I'd been intrigued by the picture of this model in Silent Salesmen Too since I first saw it, but hadn't seen an example in person before then. I wasn't disappointed. When I asked the owner if he wanted to sell it he smiled politely and said "no." So I grabbed it and ran like hell, and this is that machine!
I'm kidding, of course.....or am I? Yes, I am. I kept my eyes open for several years after that, and when this one appeared on ebay I pounced. Since buying this one I've had the chance to buy several others, but they weren't any better than this one, and some were worse.
It's a diminuative machine that sold an aspirin 'Handy Pack' for 5 cents. The front graphics list headaches, colds, pains, and neuralgia as maladies the Handy Pack would help relieve. The machine has a cast iron base and mechanism, and a pretty sturdy sheet metal 'globe' and lid. The lid is actually a slip-cover over another piece that's secured by a small Eagle lock. From the outside the machine appears to be unlocked, filled with aspirin free for the taking, but it's not. It's teasing you.
Two comments about the 'globe:'
The graphics are usually faded. If you can find one with strong graphics you should consider it a big plus, which is relevant to my second point so keep reading.

Globes are not all interchangable between machines. Before I knew that I bought an example with stronger graphics on the globe but a repainted body. I normally don't like to swap parts between machines, but I was compelled because the graphics on the other machine were so strong. Well, each globe fit onto the base of the other machine, but I couldn't secure the globes to the bases. This is done by 2 screws---one on each side of the machine---that go through a hole in the globe into a threaded hole in the base (you can see one above, at the bottom edge of the globe on the side). The positions of these holes are not standardized between machines, so they didn't line up. So much for that plan.
This example is 100% original. The graphics on this example are faded but still quite readable. This one has better paint on the lid than do most examples; for some reason, it's often peeled off in large swaths, leaving a shiny (chromed or nickeled?) metal surface showing through.

___________________________________________________________________________________________

___________________________________________________________________________________________

©Small Vintage Vending 2003