___________________________________________________________________________________________
Dean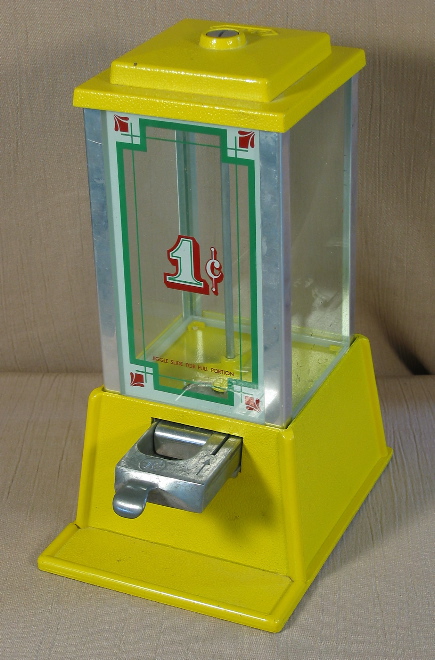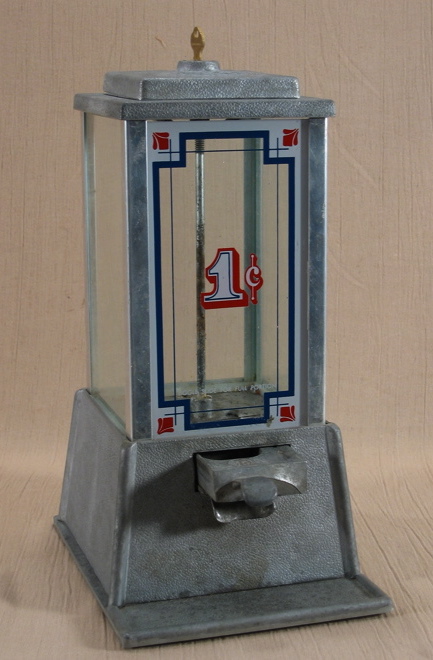 Davis Sales Co., Los Angeles, CA, c. 1972, 13". This is a young model as far as collectible coin-op goes. Dean was started by Gordon Bowman in 1972, and then sold to Penny Arcade of Hollywood, CA, about 3 years later. Mr. Bowman was the artist who originally silk-screened the glass, but I don't know if he continued to do that after Penny Arcade acquired the model. He may have retired to a Mexican beach to live a simple, spiritual life while selling fresh fish tacos to surfing tourists, or he may have opened a deli in Santa Monica. Silent Salesmen Too lists the manufacturer of this machine as Davis Sales Co., and I don't know how they fit into the picture. It may have been Mr. Bowman's company.
This is an aluminum bulk vendor with a "jiggle mech." I don't know why this type of mechanism is called that since there's not much jiggling involved, but nobody asked my opinion as it was evolving. I'd have suggested "put-a-penny-in-and-push-it-in-then-pull-it-out" as a pithy and accurate description, but again---nobody asked me.
The examples above are 100% original. The vast majority of Deans are painted bright colors, and on most of them the paint still looks pretty new. I've come across one example with a bare aluminum finish and nice old patina, shown above right, but that's the only naked example I can recall seeing. At one point I had a machine identical to the Dean except the lid was embossed STAR in exactly the same style and location as the DEAN logo on the Deans. You can see a picture of the Star here and here. The Star was also bare aluminum which tempted me to revise my "I've seen only one" statement above, but I finally decided to leave that claim because the Star was a Star, after all, not a Dean.
These are often listed as "rare" on ebay. They're not. The sellers who list them as such are either dishonest or are ignorant and too lazy to conduct 2 minutes of research to find out.
___________________________________________________________________________________________
___________________________________________________________________________________________
©Small Vintage Vending 2003