___________________________________________________________________________________________
Diamond Book Matches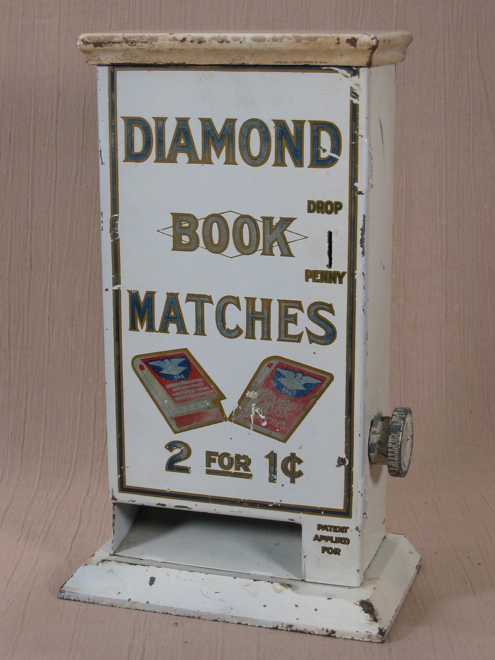 Diamond Match Co., c. 1928, 12 3/4". This is the second of these that I've owned. I'd really wanted one for awhile before I bought my first one in 1998, but I sold it after owning it a few years. I don't remember exactly why I did that, but I suspect space considerations played a role. I had some seller's regret after parting with it, so I kept my eyes open for another one after moving into a larger house. On one hand, they're not rare so I knew I'd find one eventually, but on the other hand nice examples don't grow on trees. I ended up having to wait awhile for a nice one, but finally saw this one at the November 2007 Chicagoland show and bought it. I paid $115 more for this than I sold the other one for 8 years before, which is not the road to wealth---but this one is a little nicer.
This model sold 2 books of matches for a penny. It has no lock anywhere on it, so I presume it had to have been kept inside, probably mainly in taverns. The heavy cast iron lid is hinged in back, and the sheet metal front panel is hinged on the left. The lid closes so that its front edge closes down over the top of the front panel, thus holding it all together as long as you don't turn the machine upsidedown and shake it. To get into the machine you simply open the lid and pull the front panel open. It you really really really want to lock the machine---tough, you can't; buy another model if security is so important to you.
Two other Diamond Match vendors are the round slanted version and the Advance match machine private-labeled for Diamond. I don't know the specific relationship between all these, but as far as I know there was only one Diamond Match Company.
The example above is 100% original.
___________________________________________________________________________________________
___________________________________________________________________________________________
©Small Vintage Vending 2003-2009