___________________________________________________________________________________________
Floral Perfume Vendor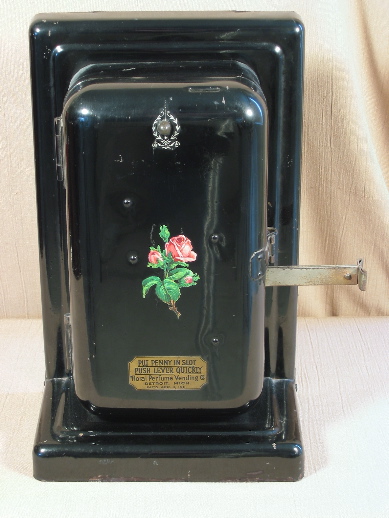 Floral Perfume Vending Company, Detroit, MI, c. 1920's?, 14". I don't know much about this machine. It was an ebay purchase, and it's the only example I've seen of this model. It's not listed in Silent Salesmen Too, so even that venerable reference can't help me. It's made of painted sheet metal, and a tag on the lower front gives the manufacturer's information cited above. The date is my estimate based scientifically and objectively on hunch.
I bought this with its carrying case, so it may be a salesman's sample. The inside of the machine has a glass vial, and a rubber hose leads from the vial to a nozzle that I assume is an atomizer although I've never tested it. In the picture above, the nozzle is located inside the white filigree at the top front of the machine. Put a penny in the coin slot, depress the plunger on the side, and a squirt of perfume is dispensed from the nozzle. If the body part you want to spritz is in front of the nozzle, then you're in business. If you can't get the body part you want to spritz in front of the nozzle, then maybe you're in the wrong business.
The example is 100% original and is in mint condition. I'd call it NOS, but that term has been abused lately so I'll stick with 'mint.' The vertical silver streak to the immediate right of the rose decal is a reflection of a tripod leg, not part of the finish. Guess I got a little sloppy on this picture.
___________________________________________________________________________________________
___________________________________________________________________________________________
©Small Vintage Vending 2003-2009