___________________________________________________________________________________________
General Electric Coin-op Fan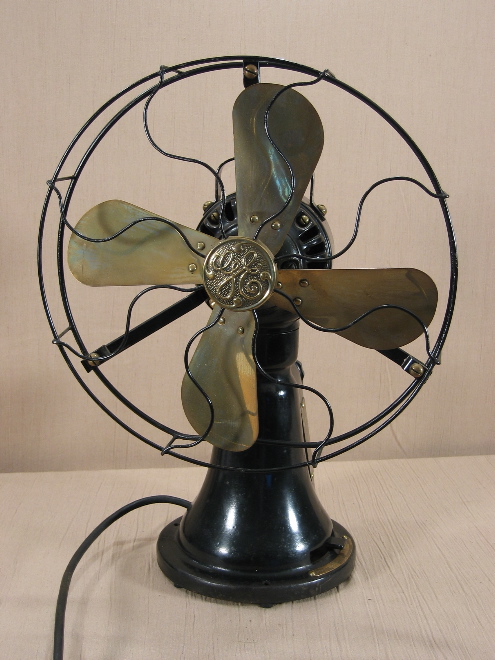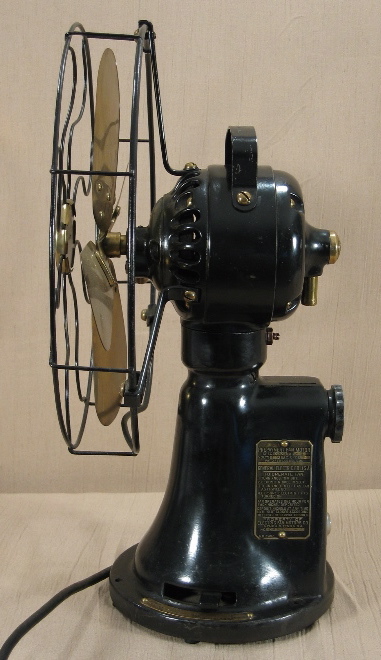 General Electric Co. USA, c. 1905, 18 1/2". This is an old-style cast iron fan similar to many made in the early 1900's, but you need to feed this one nickels to get your breeze. It has a coin slot in back with a turn knob just below it, with instructions printed on the knob. You can tell this fan from afar if you see it in profile; it has a distinctive hump in back that I've not seen on another model. These were used in hotels in the days of yore, before AC became a standard feature in those fine establishments. On the sixth floor of a room in Kansas City in 1915, this must have been an absolute godsend.
According to the tag on the side, the fan was made by "General Electric Co. USA," but was the "Property of Electric Fan Motors Co., Memphis, Tenn." I'll pay attention to this on future fans to see if others were also owned by Electric Fan Motors Co.; it's possible that this company was the only one to contract these from GE, or other companies may have also been involved. The tag also says that the "fan operates one hour for each nickel deposited." A neat thing about this is that you can put in more than one nickel at once and the fan blows for the total number of hours purchased. I'll bet that doesn't hold for, say, 92 hours, but I haven't tested that kind of length so I may be wrong. At the cost of several nickels I've discovered that "one hour" on this fan means anything from 50 minutes to about 90 minutes, so precision isn't one of the fan's strong suits. A counter located in the coin compartment keeps track (presumably) of the number of hours sold. This is one of only 2 vendors I know of with a counter; the other is the 1920's oh-so-cool German peanut vendor, the Automaten Vertrieb Crimmitshchau (say that three times quickly).
I'd wanted one of these for at least 6 years before I found this one. I'd go long periods without seeing any, and would then find one in too-rough condition with a mangled cage or missing the coin mech or other vital parts. I found this one in a friend's booth at the 2006 spring Chicagoland show, and it made the show for me.
The example above is 100% original except for the coin door and its lock, which are new. I can't imagine a nicer example unless it's got an original coin door---which I've heard are impossible to find.
___________________________________________________________________________________________
___________________________________________________________________________________________
©Small Vintage Vending 2003-2009