___________________________________________________________________________________________
Gum-a-Mib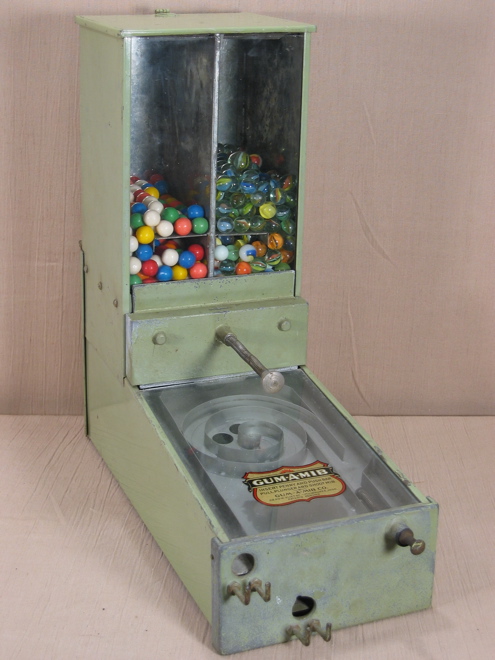 Gum-a-Mib Co., Milwaukee, WI, c. 1930's, 17 1/4". This is a neat piece that's not pretty, but it's different. You put a penny into the coin slot above the long plunger, and then push the plunger in. Two things happen: 1) A gumball is released and exits from the hole at the top left corner of the front, and 2) A marble (also known as a "mib") is released along the right side of the playing field, where it can be played. You pull back on the rod and release it, and this propels the mib up into the spiral, where 5 holes exist for it to fall into. If you hit the right one---which is the second one---you get the mib to keep. If you hit any of the other 4, it disappears forever.
When I first got this machine I tried a penny and lost the marble. With the second penny, the mib found the right hole and I got to keep it (which was still a thrill even though it was already mine). I thought, geez, this isn't so hard. It's the last time I've ever gotten the marble back, and it's not because I gave up trying. Well, I've given up by now, but I tried quite a few more times before moving on to more useful pursuits like trying to touch the tip of my nose with my tongue, or wondering if I had a time machine and could do anything over again, would I still ask Sue Marley to the homecoming dance my junior year of high school? Important stuff like that. But before I moved on to these things I found out that getting that damned marble is tough, and I don't think the vendors had to restock marbles very often.
This model is a bit industrial looking. It's made of sheet metal with a drab gray-green-khaki paint job that leaves much to be desired in the style department. Nobody fell in love with this for its beauty. It's a neat machine, though; different and fun, although losing constantly gets old.
The example above is 100% original, with a flawless original decal on the glass covering the playing field. This is the second Gum-a-Mib that I've owned. I sold the first and was packing it when my younger daughter, 4 years old at the time, came out in the garage, saw what I was doing, and became inconsolably distressed. "I love that machine," she sobbed, which surprised me because she'd played it a few times and then never mentioned it again. "Tough," I said. No, I'm kidding about that part. I told her that I'd sold it and had inconsiderately and unforgivingly forgotten to check with her first, but that I'd already sold it to someone and now simply had to send him the machine he'd bought . . . . . for his 4-year old daughter, who was sick and had only 6 months to live, and wanted more than anything else in the whole wide world a Gum-a-Mib before she died. I'm kidding about that, too, but I did tell her I'd look for another one just like it, and that I'd never ever ever sell another machine without asking her first. Her tear flow slowed and eventually stopped and she felt a little better, although her nose stayed snotty for awhile longer. Luckily she was too young to remember my promise to always check with her first, but I honored my promise to get another one. This is that replacement, and she doesn't pay any more attention to this one than she did the previous one before she caught me packing it. If I ever sell this, though, I'm asking her first.
___________________________________________________________________________________________
___________________________________________________________________________________________
©Small Vintage Vending 2003-2009