___________________________________________________________________________________________
Hance Peanut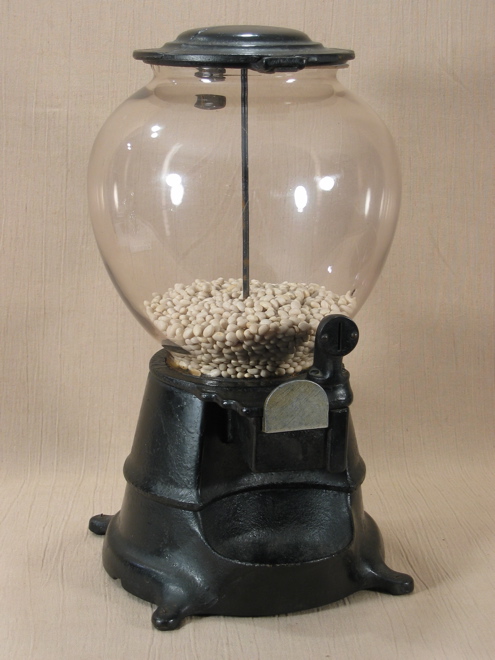 Hance Mfg. Co., Westerville, OH, c. 1915, 16". This is listed as just "Hance" in Silent Salesmen Too, but so are 3 other models so that moniker alone isn't all that descriptive, is it? Hance was a manufacturer, not a model designation, so I thought I'd add another qualifier and call it a "Hance Peanut." Now, those of you knowledgable about the Hance line may quibble with that and point out that the other three Hance-only models are also peanut machines, so I'm not really distinguishing it from those other models. My response to that is that I don't have any of those other models, so I don't need to distinguish this one from those others---yet. If I'm ever fortunate enough to get one of them and face the dilemma of how to distinguish the different machines, I'll decide then what to do about it. Until then, this is a Hance Peanut. So there.
This is a substantial machine. Cast iron with a large, wide, beautifully-sculpted globe, and has great presence on a shelf. The customer inserted a penny and then pulled the handle out from the machine. It's hard to see in the picture---black is hard to photograph with detail---but this model does not have a gate; the peanuts simply fell into the customer's hand if it was in place below the chute, or into the tray below if it wasn't. Compared to the example pictured in Silent Salesmen Too, the only difference I see is that the pull handle on the machine above is blank, whereas the one pictured in the book has writing on it. The machine above and the one pictured in the book both have periscope coin entries, but these are quite scarce---most examples of this model have a flat coin entry, flush against the metal plate on which the globe sits. The customer didn't push a coin into the periscope, he or she dropped the coin down into the entry.
I bought this from a couple that contacted me through this site (thanks again, Jodi and Craig). It has several interesting stories attached to it, one being how they acquired it, and other being how another collector tried to insert himself into the deal that Craig and I had put together. That's not a story for this forum, but it exemplified stories of "cut-throat collecting" that I'd heard before but had experienced only once. The way it worked out was this: I was honest and open with the sellers and treated them fairly, and they treated me fairly in return. See how simple it can be? They made a helluva profit on this and used it to help finance their upcoming wedding, so they were happy, and I got a great, hard-to-find machine at a fair price, so I was happy. In my opinion it was truly a win-win outcome.
The machine itself is 100% original except for the paint, but the repainting was done by a vendor eons ago and it's got a nice old patina and a great overall look. Buying this allowed me to rectify a mistake I made in the late 1990's, when I passed on an opportunity to buy another example of this model. That one didn't have the periscope coin entry but it had original paint. Another collector had it and I agreed over the phone to buy it. A couple of days later he called and said that when he went to pack the machine he'd remembered that it didn't have the back door, and wanted me to know since he hadn't mentioned it before. Did I still want it? I was really disappointed by that news, but I passed on it, saying that if I were going to spend that much on a machine that I'd need it to be complete. He understood, and he sold it to someone else who, in retrospect, was undoubtedly thrilled to get it even without the back door. It didn't take me long to reaize that I'd made a mistake, but by then it was too late. Rectifying that mistake 9 years later cost me about 3 times what I'd have paid for the first one, so my "tuition" in this case was high. Unfortunately, that's not the first time that happened, and I doubt it'll be the last.
___________________________________________________________________________________________
___________________________________________________________________________________________
©Small Vintage Vending 2003-2009