___________________________________________________________________________________________
Harmon Unit E condom machine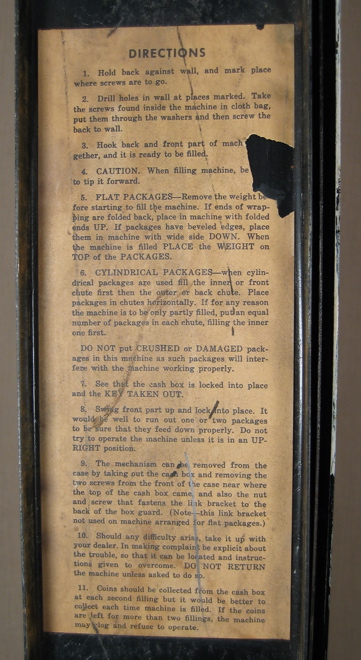 Harmon Mfg. Co., Wichita, KS, c. 1960s, 33 1/2". This is one of several wall-mounted single-column "unit" machines. They were first made by Advance Machine Co. starting in the late 1910's/early 1920's, continued coming from Advance until their acquistion by Harmon Mfg. Co. in the early 1960's, and were thereafter made by Harmon. The various models differ by height, depth, mechanism, "window treatments," and the location of product exit routes---but other than that they're identical. I can't keep the model letters straight, but they're described on page 13 of Silent Salesman Too if you want to investigate. The Advance Unit A is another example of this style. The Advance Unit E prophylactic machine, the predecessor to the machine above, is described on Silent Salesman Too page 260.
All of the Advance "unit" vendors are made of sheet metal. A neat feature of these vendors is that you cannot turn the handle if the machine is empty. I imagine that feature alone prevented a lot of dents. How can you tell if a machine was made by Advance or Harmon? According to Silent Salesman Too, a machine with a wire handle was probably made by Advance, while a machine with a round knob was probably made by Harmon. That's just a guideline, though; operators sometimes interchanged handles, so it's not a foolproof method of determing origin.
The machine pictured above looks to be 100% original. For your reading pleasure I've posted a picture of the literature affixed to the inside surface of the back plate.
___________________________________________________________________________________________
___________________________________________________________________________________________
©Small Vintage Vending 2003-2009