___________________________________________________________________________________________
Ideal Safety Matches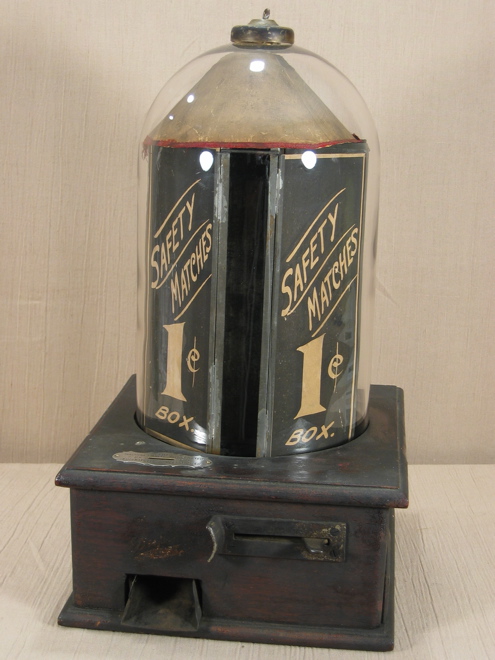 International Vending Co., c. 1910, 18". This is a 4-column vendor with the columns nestled between the big "SAFETY MATCHES 1¢ BOX" placards. The lampshade on top used to have fringe, but the bugs of time seem to have chomped it all off. According to Silent Salesmen Too, this model was made by the International Vending Co. and private labeled for the Ideal Mfg. Co. and the Jackson Vending Co. of Chicago. This example doesn't say Ideal or Jackson anywhere on it, but the coin slot says it's the property of the Indianapolis Concession Co., and the underside of the wood coin box says it's "sold by E.K. Rahke, Jobber, 137 West Market Street." It doesn't say what city that's in, but this address exists in Indianapolis so I presume that's it.
By the way, "jobber" is a profession you don't see anymore. I wonder what it was, and was it a respected profession? You think the following conversation ever took place?
Adult to 8-year old kid: "Whaddaya wanna be when you grow up, Stevie?"
Stevie: "I think I wanna be a doctor."
Adult: "Oh, that's nice. That's a fine profession. How 'bout you, Billy?"
Billy: "I'm gonna be a JOBBER!"
Adult: "Wow, a JOBBER! Hey, that's great, Billy, but you know you'll have to study reaaaaal hard to be a jobber, don't you? Only the best of the best can be a JOBBER!"
This model never interested me until I saw this one. I'm still not sure why this particular machine changed my mind, but it's got a great old look that I liked. Maybe I'd just never seen the right one, or maybe my taste changed. That's happened before; when I was a kid I didn't like pizza, and then one day out of the blue had an urge to try it. I liked it! Then, after years of eating it, it started to disgust me and still does. I hope that doesn't mean I'll someday despise this machine, but if that happens I can probably figure out what to do with it.
The example above is 100% original.
___________________________________________________________________________________________
___________________________________________________________________________________________
©Small Vintage Vending 2003-2009