___________________________________________________________________________________________
Jennings Star Chief slot machine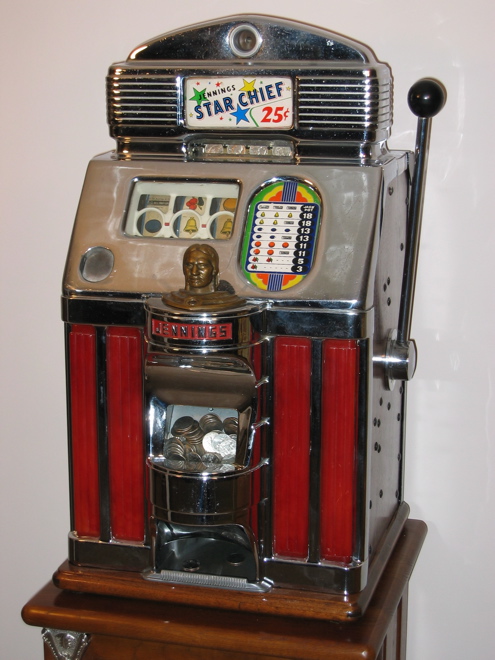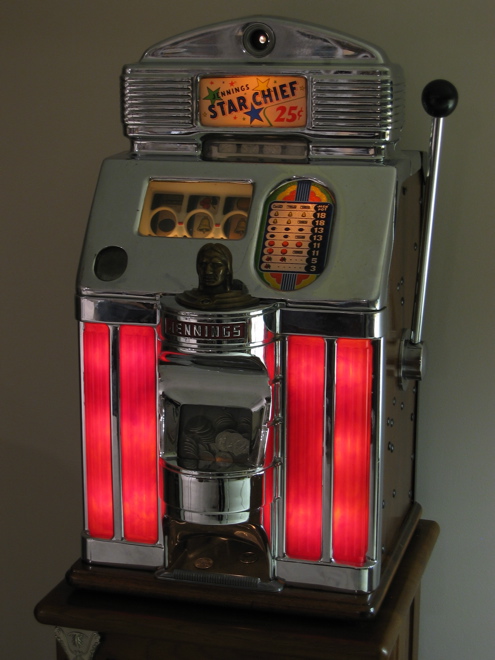 Jennings and Co., c. 1940s (I think), 27". I know very little about slot machines, and even less about this one. This was included in a collection I bought in 2007, and as I looked through the pictures the seller sent me I immediately tagged this as a "sell." The only slot machine I ever really fancied was the Jennings Little Duke, and this ain't that. The more I looked at the picture, though, the more I liked the machine. I finally decided that I liked it enough to keep, so I did. Every coin-op guy should have one slot, right? That's what I kept telling myself, and it worked.
It's a nice machine, and from I understand is a fairly well-respected machine. Not the one to make or break a collection, yet not one to shy away from either. What I found myself liking more and more were the Indian head and the lighted columns. It's not got the ancient look I tend to like on coin-op, but it's got a good look nonetheless. The neighborhood kids like it, too; I let them come over and play after school, and so far have a $38.25 profit to show for it!
This example is 100% original and was cleaned and lubed before I bought it. It seems to work just fine.
___________________________________________________________________________________________
___________________________________________________________________________________________
©Small Vintage Vending 2003-2009