___________________________________________________________________________________________
Kandy King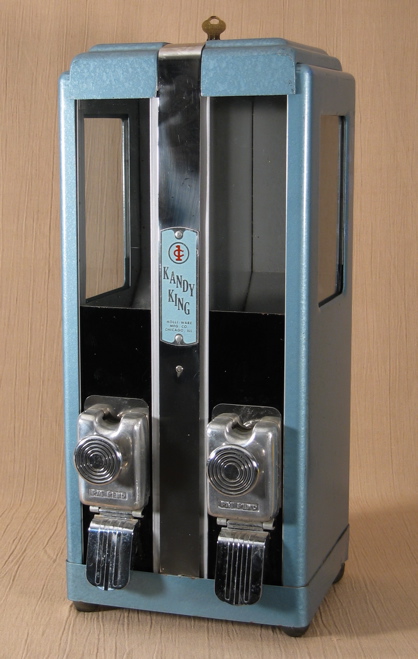 Holli-Ware Mfg. Co., Chicago, IL, c. 1940's, 18 1/2". This is a nice sheet metal 2-compartment vendor. The date is an estimate since Mr. Enes doesn't tell us what it is, but it oozes 1940's. It also leaks a little 1950's, so that's a possibility although I'd put my money on late 1940's.
I've always liked this model---it's got clean lines and enough going on in front to make it interesting even without any decals on the glass. It's not rare and many of the examples I've seen are in very good condition, so availability is not an issue. I don't know why this model didn't get hammered much more than it did, or maybe it did and those examples have gone off to Vendor Heaven.
This thing is fairly tall and is heavier than you'd think by looking at it---it's a solid piece! The example above is 100% original.
___________________________________________________________________________________________
___________________________________________________________________________________________
©Small Vintage Vending 2003-2009