___________________________________________________________________________________________
Kelley Match Vendor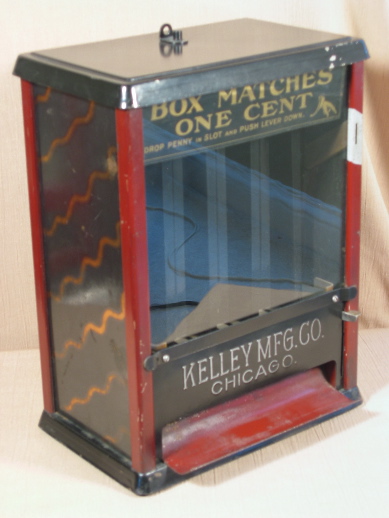 Kelley Mfg. Co., Chicago, IL, c. 1920, 14 1/2". This is a 4-column vendor made of fairly thin sheet metal. The rails are thick and sturdy, but the side panels and lid are thin and easily bendable. The overall feel is pretty flimsy, in spite of the machine's relatively large size and 'presence.'
The columns aren't the normal width, and safety match boxes of normal size don't fit properly into the columns. That's the one aspect of this machine that I've never been able to figure out. I don't know what matches this machine was built to take, but the machine may have been desiged to take only a certain brand of unique size. If so, then I can't see how this would been a competitive advantage.
The sign at the top of the front window is a very thin flat metal piece that hangs from top edge of the window down into the product compartment, behind the glass. Most Kelley's I've seen are missing this piece, and its absence substantially lessens the machine's visual impact.
The side panels on the example above are tiger-striped and are the only side panels I've seen like that. Most side panels say "MATCHES" in vertically aligned letters, as you can see in the Kelley pictured in Silent Salesmen Too page 241.
Kelley's have no lock, so they must have been intended only for secure locations. Instead of a lock, it has a nut that screws the lid down and keeps it securely in place.
The example pictured above is 100% original and complete, and is the nicest example I've seen.
___________________________________________________________________________________________
___________________________________________________________________________________________
©Small Vintage Vending 2003-2009