___________________________________________________________________________________________
Kis-Me Gum Jar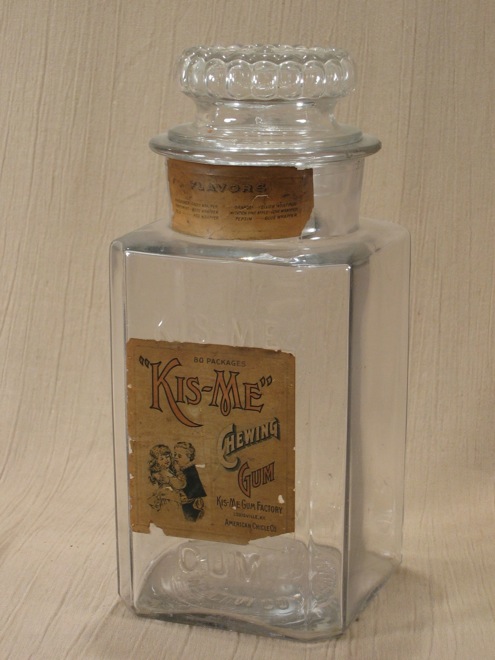 Kis-Me Gum Co., Louisville, KY, c. early 1900s (I think), 11". These glass jars are common and are readily available on ebay. Eighty packages of gum were shipped in each jar, which sat on store countertops, and customers would grab a piece (or 2 or 3 or 10) and pay the clerk. On the back of the jar is embossed "KIS-ME GUM CO LOUISVILLE KY" and on the bottom is embossed "PROPERTY OF THE KIS ME GUM CO." Based on the front label I assume that the Kis-Me Gum Co. was a division of the American Chicle Co.
What's not common is the paper on the jar. Almost all of these jars are found without labels, and almost all of the jars with paper have the label on the body or the label on the neck, but not both. Only 3 jars in the entire known universe exist with paper labels on the body and the neck!!!!!!!!!! I'm kidding, maybe the number is....5? Gosh, I don't know, but I do know that it's really really really hard to find a jar with both labels. I know this because I've seen only a couple other examples with both, and also because my friend Dave told me, and he knows a lot more about gum stuff than I do, and I trust his knowledge on the subject. He's not much help with, say, the kinetics of drug distribution to poorly perfused tissues, but he's a wealth of knowledge on gum stuff. When you drop a big wad on an example with paper, know that you're paying for the paper, but also know that the whole is greater than the sum of the parts.
By the way, in the interest of cultural exchange for those who've never lived in Kentucky, "Louisville" is pronounced "LOO-a-vull," with the middle "a" getting only a nanosecond of vocalization. Pretend to be really drunk and trying to say "Louisville" but slurring it badly, and you'll be pronouncing it correctly. Or, as I was taught in person, say "Louisville" while rubbing your hand across your mouth; what comes out should be pretty accurate.
___________________________________________________________________________________________
___________________________________________________________________________________________
©Small Vintage Vending 2014