___________________________________________________________________________________________
Kitco Seat Cover and Toilet Tissue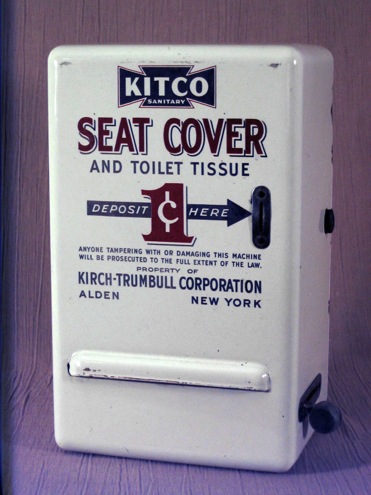 Kirch-Trumbull Corp., Alden, NY, c. 1936, 12". I owned this for a short time and don't know much about it. I didn't have a key for it and never saw its innards. It struck me as a really neat bathroom piece, and looked better live than it does in the picture in Silent Salesmen Too. It's porcelain-finished, which is why it looks so neat---it'd be much less appealing if painted. Versions of this machine also sold towels and soap, paper towels, and facial tissue.
I bought this at the November 2011 Chicagoland Show, but couldn't find a spot for it at home. Meanwhile, a friend lusted after it, so I took it back to the spring Chicagoland show and sold it to him. I now (as of December 2013) have a perfect spot for it, but don't have the machine.
The machine above is 100% original. Sorry about the picture quality; it's not very good, and I didn't notice that until after I'd sold the machine.
___________________________________________________________________________________________
___________________________________________________________________________________________
©Small Vintage Vending 2013