___________________________________________________________________________________________
Kotex Vendor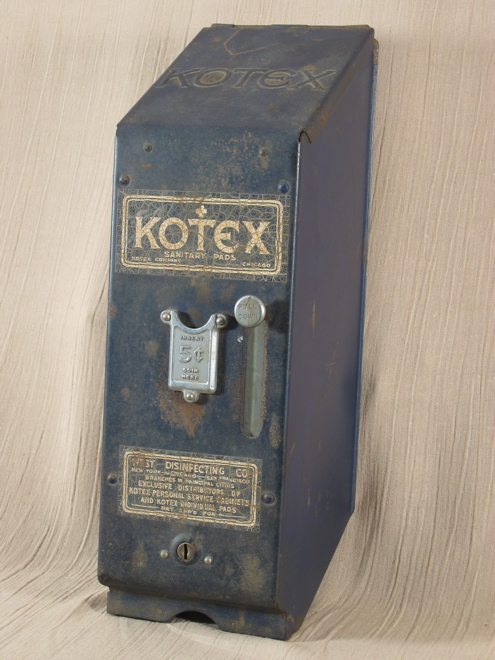 West Disinfecting Co., New York---Chicago---San Francisco, c. 1920's or 30's (est.). I know very little about this model, and it's not in Silent Salesmen Too. I suspect that West Disinfecting Co., which is listed on the bottom front decal, is the owner and not the manufacturer, but I have no clue who actually made it. This machine was part of a collection I bought, and I'd never seen one before I got this. I've seen several since, though, which leads me to believe that they'd been around all along, but I just didn't pay attention.
It's a sheet metal machine that's got enough going on with it to be pretty interesting. The embossed top, the decals, and the interesting coin slot and pull-down lever on the front---the machine really has good "texture." Given the slanted bottom, this model had to be wall-mounted, presumably in women's bathrooms.
The example above is 100% original. The picture above exaggerates every imperfection in this example, and I think it looks better---let's say softer---in person than in the picture. Despite that, it's not a perfect example, but the others I've seen have been in comparable condition. This may be one of those models that's just really hard to find in pristine shape.
___________________________________________________________________________________________
___________________________________________________________________________________________
©Small Vintage Vending 2003-2009