___________________________________________________________________________________________
Lee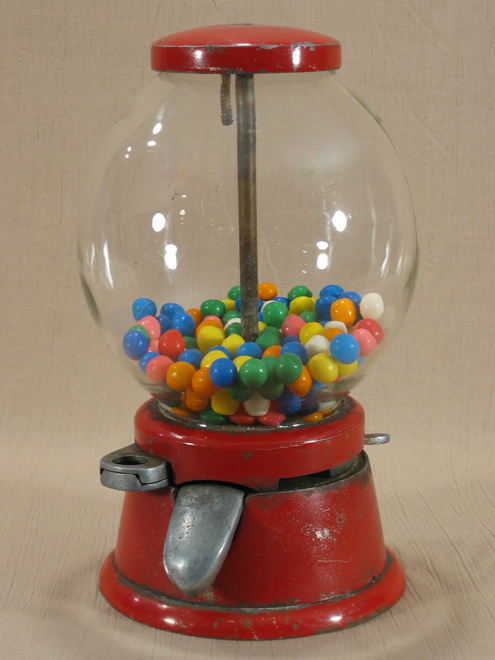 Lee Co., c. 1930, 13". The Lee is a cast aluminum machine with a fairly typical pull-the-lever-across-the-front design, except for one thing: Pulling that lever causes a thin piece of metal to sweep the penny back from the coin slot into the machine. It's the only machine I know of with this type of feature, and it's pretty neat.
The Lee came in at least 2 versions that differed, as far as I can tell, only in the way the base was shaped. Both flare out toward the bottom, but the other version looks more like the base on a Columbus 46, with the same method of padlocking the baseplate to the machine. The version above holds the baseplate in place with a center rod that extends from the baseplate up through the lid, where it's held in place by a special nut that attaches to the center rod through the lid. I'm sure that one of these versions is older than the other, but I don't know which came first.
The Lee also had 2 styles of globe. They're the same size and shape, but one has a stippled pattern on the top half of the globe. Those are harder than hen's teeth to find, but they do exist---and I can always hope. The stippled globe is considered quite desirable, and I know of only a few that exist.
The example above is 100% original. Lees are tough to find, and every one that I'd seen before this one had been newly painted or had been buffed, and none had attracted me. The one above was a different story. The nice original paint gives the machine a whole different look---a much better look---that really attracted me to it. I bought it based on a picture I'd received from another collector, and up until the time I actually got the machine I was wondering if I'd really like it enough to justify the price. I knew when I saw it, though, that this one's a keeper.
___________________________________________________________________________________________
___________________________________________________________________________________________
©Small Vintage Vending 2003-2009