___________________________________________________________________________________________
Little Nut Type C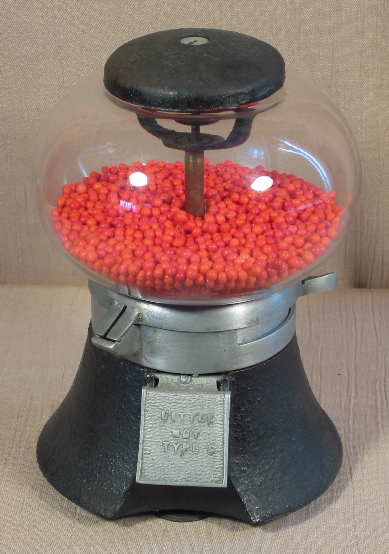 Little Nut Vendor Co., Lansing, MI, c. 1930's, 10". The date is my estimate, but all other Little Nuts listed in Silent Salesmen Too are listed as 1930's era machines, so I think it's a pretty good estimate.
This is a neat machine, cute as a button yet manly as well. Hard to get both of those qualities in the same machine, but Little Nut succeeded. The mechanism is aluminum and the globe is thick, manly (yet cute) glass. The body and lid are made of cast iron finished in a rough, pebbled texture and is one of the few machines I can think of that was textured that way. In fact, as I think about it now I can't recall another that was, but one may come to me later. If it does, I'll list it here.
This machine was also made in aluminum and has a smooth polished surface instead of the pebbled surface found on the manlier cast iron version. In addition, I've seen a globe with "Little Nut Vendor Co., Lansing, Mich." embossed on the upper surface. I've been told that only 2 of those are known, but I don't personally know. You can see a picture of an aluminum machine with the embossed globe on Silent Salesmen Too page 86, although the globe is not clear in that picture.
The example pictured above is 100% original and is mint.
___________________________________________________________________________________________
___________________________________________________________________________________________
©Small Vintage Vending 2003-2009