___________________________________________________________________________________________
Mickey Mouse Chewing Gum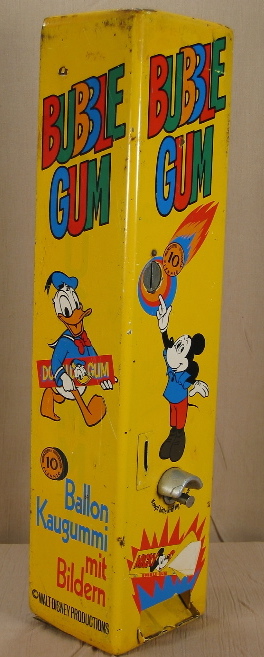 Lehnhardt, Schroter & Co., Koblenz/Rhein, Germany, c. 1940s or 1950s, 23 1/2". I don't know much about these. This is the only one I've ever seen, although a friend has told me he's seen several. He's either delusional or he pays closer attention than I do. Maybe both.
This was a ebay purchase. I bought it from a dealer in Austria who said that these were used in Germany after World War II. He said that the machines targeted Americans stationed in Germany after the war, and that's why it has an American theme and is written partly in English. I don't know that to be true, but it sounds plausible.
Without the great graphics this is just an uninteresting box, but the graphics obviously make it much more than that. I like the machine, and in spite of my friend's delusional comment this is still the only one I've seen. It takes a 10 pfennig coin, which all German machines seem to have taken and which is the same size as an American nickel. Ain't that a coincidence?
This example is 100% original. Pictured above are 2 views of the machine.
___________________________________________________________________________________________
___________________________________________________________________________________________
©Small Vintage Vending 2003-2009