___________________________________________________________________________________________
Mystery 43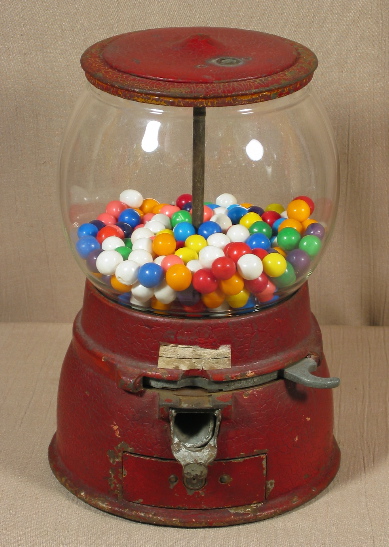 c. 1915, 12". Bill Enes lists this as a mystery machine, but also lists it as being circa 1915. I don't know he could associate a date with a machine he couldn't identify, so I'm a little skeptical about that date. I don't dispute it, but I don't consider it gospel.
I've heard through the grapevine that 5 of these machines were found together, only one of which had a globe. Using the one globe as a template, new globes were hand-produced for the other 4 machines. I've seen only 2 of these machines: This is one, and the other was a repainted example sold at the Stan Harris auction in 1995.
As Bill described in Silent Salesmen Too, the lower rim of the globe sits inside the machine on 3 pegs that protrude from the inner surface of the body. The contact points between the glass and the cast iron pegs aren't padded, so this design is an accident waiting to happen. What looks like the lid is a combination of the hold-down ring around the perimeter and the actual lid being the center section. You can the demarcation in the above picture if you look for it.
The example above is 100% original except for the globe, which is new. The paper above the chute exit is ancient, but its writing is nearly invisible to the casual observer. I've love to know what it said, and perhaps someday I'll observe it less casually to see if I can elucidate its original message.
___________________________________________________________________________________________
___________________________________________________________________________________________
©Small Vintage Vending 2003-2009