___________________________________________________________________________________________
Mystery 52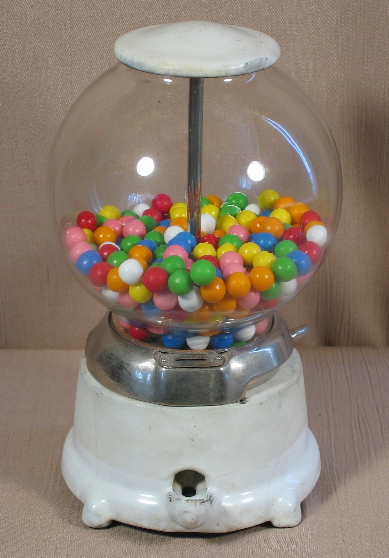 13". Bill Enes called this a "mystery" machine, which means that he didn't know who made it. He said "this machine resembles a primitive version of a National," but I'm gonna go a step further and say that this machine probably is an early example of the National. The size, shape, proportions, and style are exactly the same, and the mechanism is similar (or perhaps even identical) to that on the National. This machine is made of porcelainized cast iron and is substantial. The midsection is made of nickel-plated cast iron.
My hypothesis is as follows: National first released this version of the National Gumball machine, but designed the lid with such little thought that the machine sold very poorly. As stated in Silent Salesmen Too, "To open the lid you must first unlock the bottom plate and unscrew the rod from the bottom and lid. The globe remains loose while one tries to fill the machine. This must have been a real favorite with the route men." Although this machine is attractive and has a well designed, reliable mechanism, vendors would not willingly put up with such impracticality. I suspect that this was a short-lived commercial failure. I think National realized that quickly and redesigned the way the lid attaches to the machine, thereby (after adding a tag to the front of the body) producing the more common version of the National Gumball machine.
This is pure hypothesizing on my part, but it's reasonable and is consistent with what we know about this machine today.
The example above is 100% original.
___________________________________________________________________________________________
___________________________________________________________________________________________
©Small Vintage Vending 2003-2009