___________________________________________________________________________________________
Mystery 5 Match Vendor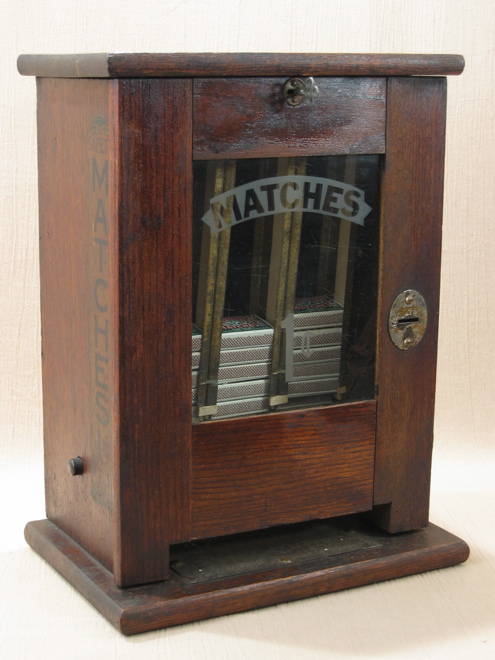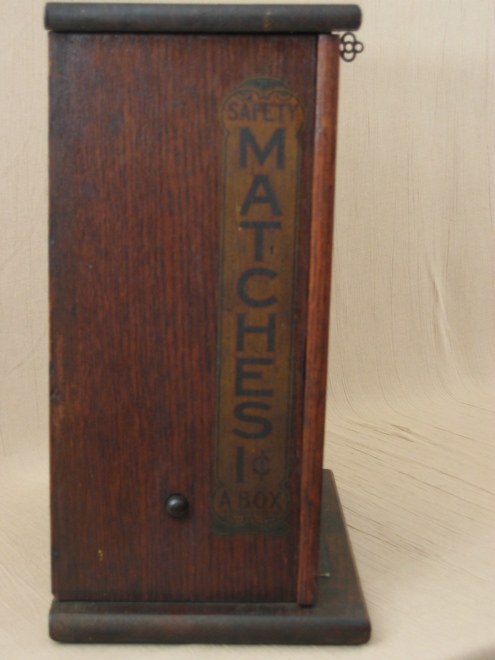 Maker unknown, c. early 1900's, 15 5/8". This is a wood 3-column match vendor that on the surface seems very similar to the Pix Safety Matches vendor. I stumbled across this at the Chicagoland show in the fall of 2010, and debated whether to buy it because I thought it was essentially a Pix, but with a different design of the lower front cover. As you can see here, the differences are more numerous than that. This is a 3-colunm vendor, the Pix has 4. This is bigger, the top protrudes less toward the front when viewed from the side, and as mentioned, the lower half of the front is completely different. And---get this!---the coin entry plate on this machine is oval whereas on the Pix it's round!. The more I look at this and the Pix together, the more I see them as different models, rather than variations of the same model.
Other than that, I don't have much to say. It's a mystery machine, and I don't know who made it or when, although I'm sure it dates back to the early 1900's. This is the only one I can recall seeing, so it seems to be quite scarce, maybe even---dare I say it?---rare.
The example above is 100% original.
___________________________________________________________________________________________
___________________________________________________________________________________________
©Small Vintage Vending 2003