___________________________________________________________________________________________
National Breath Pellet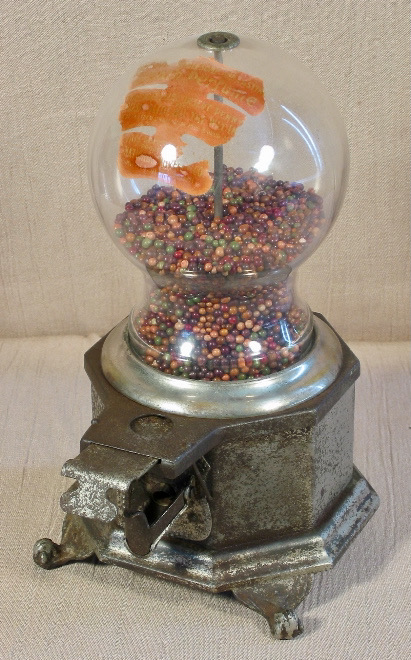 National Novelty Co., c. 1910, 10 1/2". Some collectors think that the price of an antique gum or peanut machine is usually inversely proportional to its size. Those who espouse that hypothesis often use this model as an example to argue their point. Those who don't believe in that correlation refute it by citing the Lion vendor. In the end these arguments are usually resolved by arm wrestling, with the loser buying the beer.
This is a great little machine, and I do mean little. Next to the 8 1/2" Hance Breath Pellet it looks pretty substantial, but next to just about any other machine it looks like the pipsqueak that it is. It's made of nickel-plated sheet metal and has one of the most identifiable globes I know of. They were made to vend teensy tiny breath pellets, and therefore gave small portions that required small amounts of product and needed only small globes. The ring surrounding the base of the globe is aluminum, which is why it has a different finish than does the body in the picture above.
National Breath Pellet machines are considered rare; collectors generally believe there to be fewer than 20 in existence, although I don't know anyone who's made a point of keeping an exact count. This machine is considered quite desirable and is coveted by most collectors.
The example pictured above is 100% original.
___________________________________________________________________________________________
___________________________________________________________________________________________
©Small Vintage Vending 2003-2009