Noka Gum Co., c. early 1900s, 14 1/4". I'd never seen one of these---had never even heard of Noka gum---until I stumbled across this at a Chicagoland show in November 2011. At first I liked it but didn't love it, but the more I looked at it and the more I talked to the dealer about it, the more intrigued I became. I know the dealer and know he's honest, and he told me that he knew of only 3 of these. So, it's a rare piece, and I'd probably never get another chance to buy one. But it was pricey, and did I want to spend that much on something peripheral to my main collecting interest? I consulted a friend of mine at the show who knows his gum stuff, and he thought it was awesome. I told him that in that case he should buy it, and he said he normally would but that it wasn't a good time for him to buy. I went back to the dealer and we worked on the price, and I ended up buying it.
When I bought it I figured I could sell it if I changed my mind, but when I took it home a strange thing happened---my wife liked it! I still wasn't real sure, and it sat empty next to the Colgans and Zeno cases for about a year while I tried to decide whether to keep the Noka or the Zeno. Then one day I transferred the contents of the Zeno case to the Noka case, and the Noka came alive. I was surprised how much difference it made to just fill the case. That made my decision for me, and the Noka became a keeper.
My gum-knowledgable friends have confirmed that this is indeed a rare piece. It's in pristine 100% original condition. The key feature of this case is the corners, which have "NOKA" and "GUM" carved into them. You can see most of this in the right picture above; the "GUM" is obvious, and if you look closely you can see "NOKA" above it. The letters are part of the design and aren't as obvious as "GUM," but you can see the "N" at 10:00 and "O" at 11:00.
___________________________________________________________________________________________
UPDATE 12/23/2015: Someone contacted me a while ago after reading this page and said he also had one of these, and sent a couple of pictures which I've posted below. The case is the same except for lighter coloring on the corners, which emphasizes the ornamentation there more than the darker corners do. I like both versions, but I like the lighter corners a bit better because they do stand out more.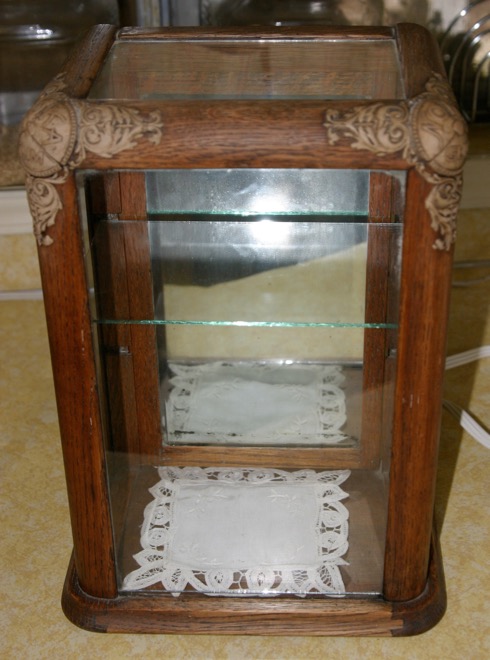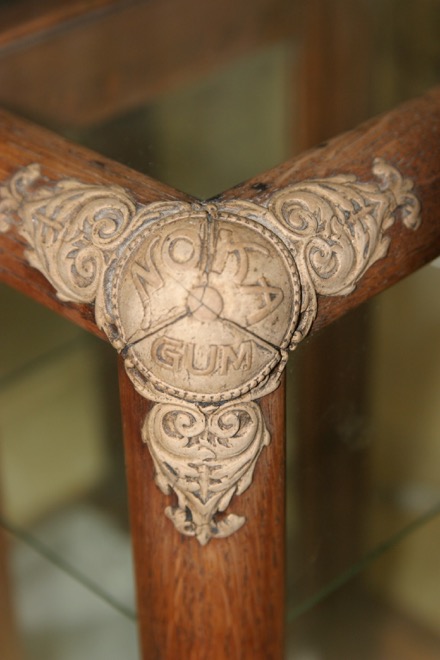 ___________________________________________________________________________________________
___________________________________________________________________________________________
©Small Vintage Vending 2014