___________________________________________________________________________________________
Northwestern Book Match Merchandiser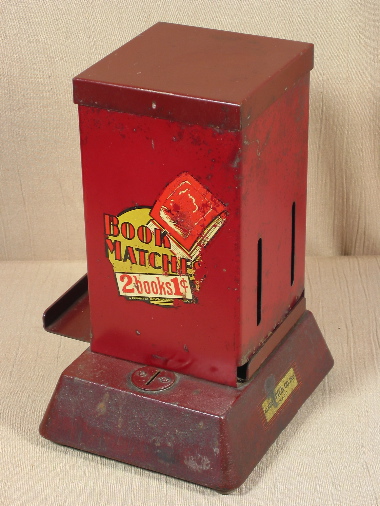 Northwestern Corporation, Morris, IL, c. 1930s, 10". This model isn't rare or even uncommon, but I think it's cute. It's a 2-column vendor that sold 2 books---not boxes---of matches for a penny. The base is cast iron and the sides and lid are sheet metal. The top doesn't lock, so to fill the machine you have only to remove the lid and drop the matches in. I don't suppose this was intended for high risk areas.
All examples I've seen are painted, most of them red or maroon, but I've also seen a few other colors. In my opinion the paint is the key to this model; good paint and a nice decal make this an attractive machine, but examples with mediocre paint and only a partial decal hold much less interest (and value).
This example is 100% original.
___________________________________________________________________________________________
___________________________________________________________________________________________
©Small Vintage Vending 2003-2009