___________________________________________________________________________________________
Canteen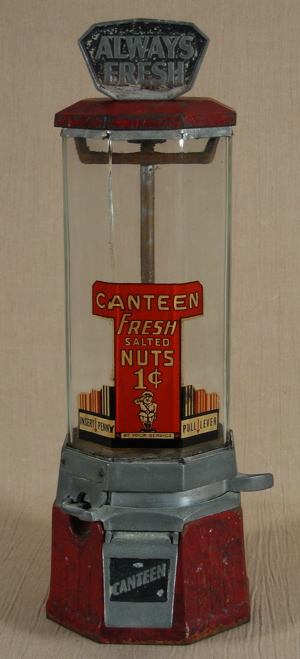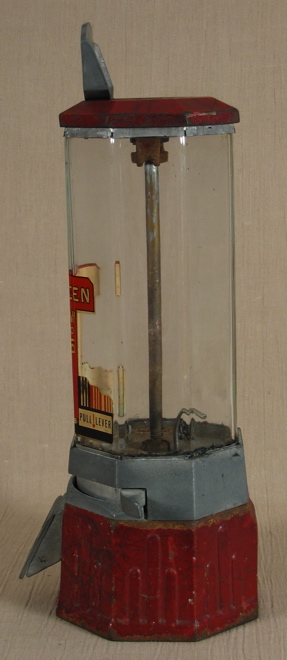 Northwestern Corporation, Morris, IL, c. 1933, 15". This is a private-labeled Northwestern 33 Junior. I considered including this on the 33 Jr. page, but most collectors give the Canteen its own identity, rather than think of it as a version of the 33 Jr. It's not like, say, a blue porcelain version of the 33 Jr., it's a Canteen.
But it really is just a private-labeled 33 Jr. All of the examples I've seen of this model are painted a deep red, like this one, with either black or gold dribble paint. They've also all had the tall version of the 33 Jr. globe. You can see other "Canteens" here and here, but these are completely different machines. Canteen was a distributor, and contracted to have machines made with their label. They didn't make the machines themselves.
The example above is 100% original. For some reason collectors have always coveted this version more than the typical 33 Jr. I can understand that to an extent since it's scarcer, but the gap in price between a traditional 33 Jr. and this model has always been more than I'd expect. Because of this difference, at least one unscrupulous seller has been known to take common 33 Juniors and turn them into Canteens by adding a marquee and a decal. Be careful when buying one. If anything doesn't look right, I'd advise passing and waiting for one with which you're more comfortable.
___________________________________________________________________________________________
___________________________________________________________________________________________
©Small Vintage Vending 2003-2009