___________________________________________________________________________________________
Northwestern Deluxe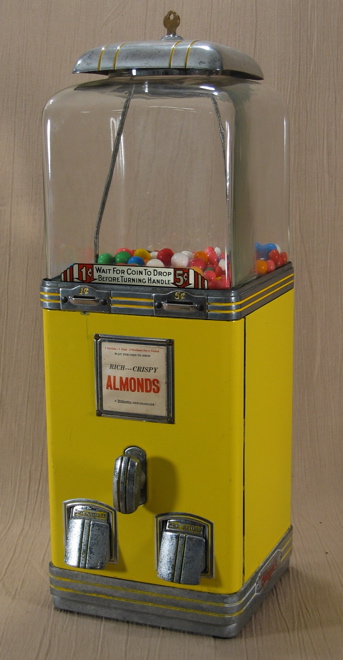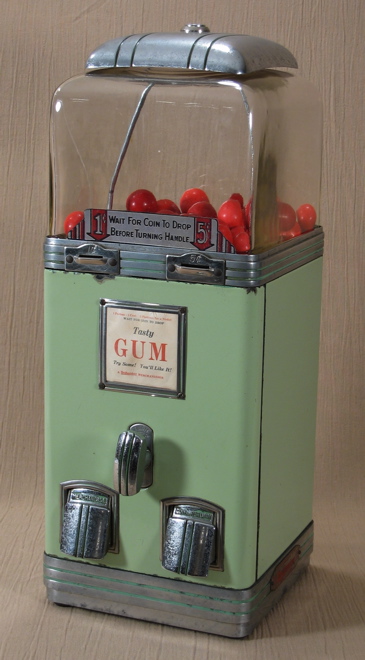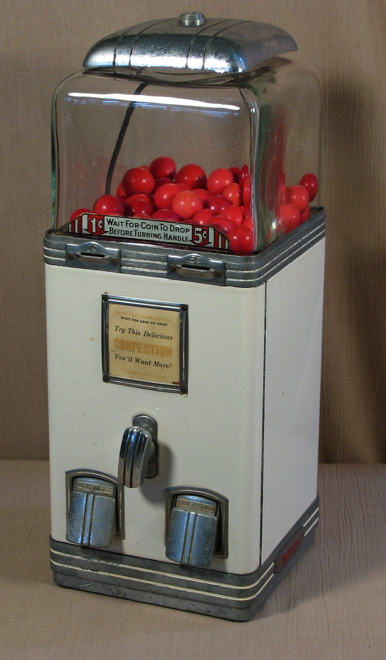 Northwestern Corporation, Morris, IL, c. 1936, 17 1/2" with the short globe. The Northwestern DeLuxe and the Stewart & McGuire are the 2 machines that astound me at how far manufacturers and vendors would go to separate folks from their loose change. I think Rube Goldberg may have consulted on the design of these machines. As simple and straightforward as most Columbus, Simpson, and Northwestern machines were, the DeLuxe is the opposite.
The case is an art deco design that looks to be porcelain or paint over thick steel. It's a heavy machine. All the painted examples I've seen are red, while the porcelainized versions came in red---by far the most common---green, ivory and/or white, black, and yellow. You can see examples of 3 of these above. According to a friend who loves this model and is quite knowledgable about it, this is the rank order of scarcity. I say "and/or" about ivory and white because he's not sure if the white and ivory are intended to be different colors, or represent unintended variability in the same color.
This is a penny-nickel machine. A penny in the left slot gets you one turn, while a nickel in the right slot gets you five. The product came out of the left chute, while the right chute was a coin return.
Several globe and lid styles were available. The machines pictured above all have glass globes with a circular hole and a chromed steel or polished aluminum lid, which most collectors prefer if given a choice. This lid is correct with all different body colors. The globes on the green and ivory machines shown above are a little shorter than the globe on the yellow machine. In addition to these 2 styles, the Deluxe was available in 2 other globe/lid combinations: 1) Tall glass globe with a square opening and a porcelainized cast iron lid, and 2) Tall plastic globe with an aluminum lid. The plastic globe may be an after-market replacement not made by Northwestern. Of the 2 different lid styles, the large, porcelainized cast iron lid is probably earlier.
The mechanism is as complicated as they come, and working on it has driven at least 2 collectors insane. I couldn't begin to tell you what does what in this mechanism, but I'm amazed that someone would go to such lengths to sell gumballs. With other vendors being so simple in their design and so logical to repair, why would someone do this? When you see the mechanism it's no wonder this model didn't stay around long.
The examples above are 100% original.
Many thanks to Dan Davids (a.k.a. "Mr. Northwestern") for his critical review and content suggestions.
___________________________________________________________________________________________
___________________________________________________________________________________________
©Small Vintage Vending 2003-2009