___________________________________________________________________________________________
Northwestern Moon rocket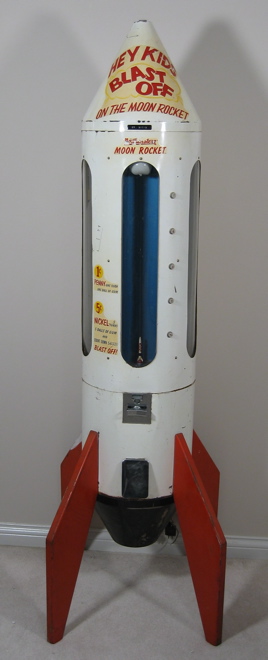 Northwestern Corporation, Morris, IL, c. 1959, about 6 feet tall. This is one of the rocket machines made by various manufacturers in the late 1950s to take advantage of the space craze launched by Sputnik. If you're guessing that this is the biggest machine I own, you're right. Nothing else comes close. Click here to see the machine in "size context" with something more common.
A penny gets you one turn; a nickel gets you five. With the nickel, the five small dots to the right of the front window light up one by one, and at the end of your cranking the rocket shoots up. Before I got this machine I thought the rocket would launch slowly and climb (with noise and billows of smoke pouring from the bottom of the rocket and the machine!), but it's much less than that. The rocket snaps up and then falls quickly to earth. It's a quick blast and then the game's over---until the next nickel, that is.
Northwestern made only 500 of these and far fewer still exist, making these tough to find. This one is 100% original.
___________________________________________________________________________________________
___________________________________________________________________________________________
©Small Vintage Vending 2003-2009