___________________________________________________________________________________________
Northwestern Ohio Blue Tip Match Vendor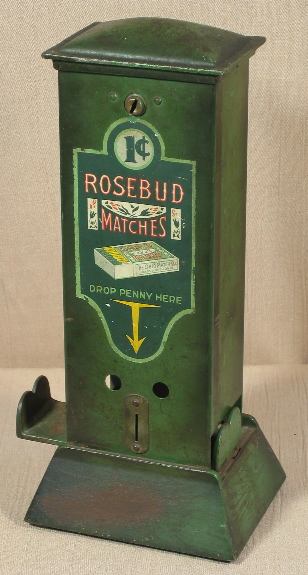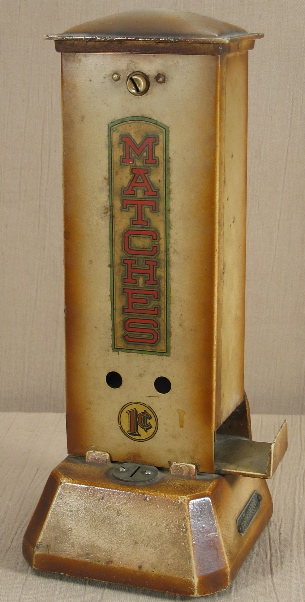 Northwestern Corporation, Morris, IL, c. 1925, 13". This was a 2-column match vendor that could (and did) sell things other than matches. I sometimes see these with an 'Ohio Blue Tip Matches' decal, but any match decal would do.
There's nothing fancy about this model. It has a cast iron base and lid and a sheet metal body. They're relatively common, so I think Northwestern sold a bunch. The distinguishing characteristics with this model are condition and the decal. Some examples I've seen have been in rough condition and/or have no decal or a rough decal; these usually don't generate much enthusiasm from potential buyers. However, really nice examples have become more appreciated over the past few years, and sell for decent prices at shows.
The examples above are 100% original and represent 2 variations of the model. The bases and locations of the coin slots differ between them, but everything else is identical. Although the "Rosebud" machine on the left matches the variation shown in Silent Salesmen Too, I think both of these are considered the same model, albeit maybe from different eras.
___________________________________________________________________________________________
___________________________________________________________________________________________
©Small Vintage Vending 2003-2009