___________________________________________________________________________________________
Northwestern Sellem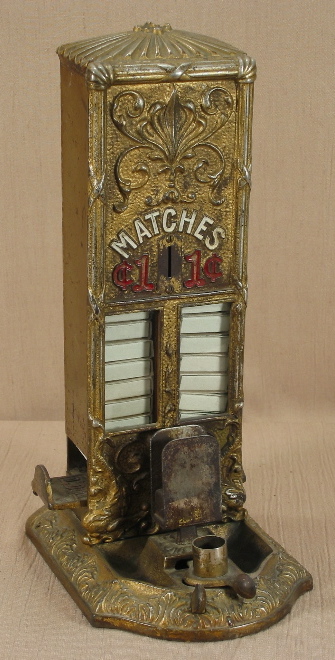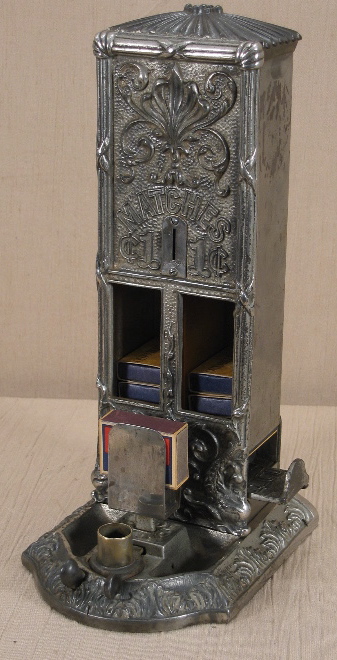 Northwestern Corporation, Morris, IL, c. 1912, 13 1/2". According to Silent Salesmen Too, the Sellem was first developed in 1912 and was the Top Dog of Northwestern's match vendor line. The top, front, and base are art noveau cast iron and are attached to each other to form one unit. The rear compartment houses 2 columns; the "column" part of the rear unit is tin or sheet metal, and the bottom "mechanism" part is cast iron. A Sellem Model B was made without the cigar cutter and match box holder, but I can't recall ever seeing one of those.
The Sellem could be converted to standard or half-size boxes, and a later version offered 2 boxes for a nickel. According to Silent Salesmen Too, Sellems were originally available in white or green enamel paint, but later came in antique silver. However, I've seen them in several other colors and finishes, including the finish on the left example, which is a copperish plating of some kind. Some Sellems had a large advertising marquee that formed an upsidedown "U" and framed the front of the machine. I've seen pictures of these but never an example live; they're quite rare.
The Sellem was purportedly Northwestern's only model to have a cigar cutter and match box holder and was used in upscale locations like fine hotels. Buddy's Tavern on the corner would probably have had another model.
The examples above are 100% original.
___________________________________________________________________________________________
___________________________________________________________________________________________
©Small Vintage Vending 2003-2009