___________________________________________________________________________________________
Oak Premiere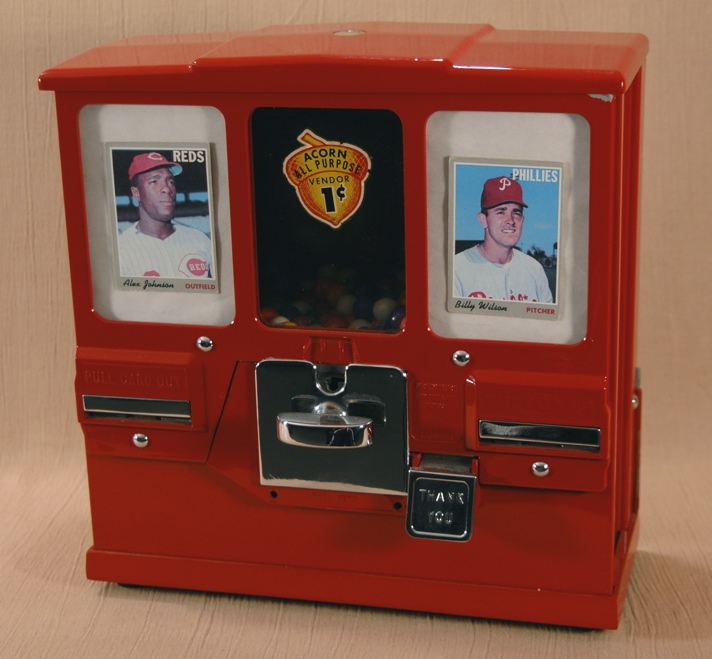 Oak Manufacturing Co., Los Angeles, CA., c. 1956, 13 1/2". Finding one of these must have been like finding treasure for a kid. Put a penny in the slot and turn the knob, and you got a gumball and a card. It's from the era of my childhood, but I don't remember ever seeing one of these as a kid in Michigan---Fords and Victor Toppers are the machines that populate my childhood memories. Maybe these weren't popular, or maybe Michigan vendors favored machines from closer manufacturers; I don't know. Too bad, too, because my pennies---or more specifically, my dad's pennies---bought only the gum part of this gum-and-card duo, and it would have been great to have both.
It's made of cast aluminum and is pretty dense. The mechanism looks to be the same as that on most other Oaks such as the Acorn and Goldmine, but was modified internally to dispense the cards from the side stacks. The mechanism is pretty simple, and alternates pushing a card from the bottom of the stack on the right and left sides to keep the stacks even. According to Silent Salesmen Too, the Premiere holds 800 cards and 1,000 gumballs. I wonder what the wholesale prices of gumballs and baseball cards were back in the 60's that would allow a guy to sell one of each for a penny and still make a profit after buying the machine and paying for the car and gas to drive around servicing them on route.
The example pictured above is 100% original and is mint. I won't say it's new old stock---that's an overused term---but it's in pristine original condition. When I bought this it contained 186 original baseball cards from the 1970 season. I removed Denny McLain and put him next to my Al Kaline autographed baseball (I was a Tigers fan growing up) and left the others in the machine. I was going to sell the cards separately but couldn't bring myself to break up the set. The cards and machine belong together after being locked up together for 37 years.
___________________________________________________________________________________________
___________________________________________________________________________________________
©Small Vintage Vending 2003-2009